Venezuelan financial support to region exceeds US aid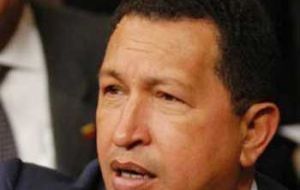 Venezuelan financial aid to Latin America has surpassed U.S. commitments in the region, President Hugo Chavez said Wednesday, shortly after President Bush completed a tour seen by some as an attempt to curtail Chavez's spreading influence in the region.
Chavez, who argues that Latin America has long suffered from U.S. domination, has used his government's booming oil revenues to finance a slew of infrastructure projects, oil shipments and donations in what he describes as a bid toward greater regional sovereignty. And for the first time Wednesday, he provided the estimated value of oil deals with 17 Caribbean and Latin American countries. Venezuela is now sending some 200,000 barrels a day of oil under the deals, which provide low-cost, long-term financing, and allow recipients to settle part of the bill in non-cash payments such as nutmeg and bananas, according to Chavez. Calculated at an average oil price of 60 US dollars a barrel, (because much of that includes more costly refined products than crude) and that amounts to 4.8 million US dollars a day in financial assistance solely through oil shipments, or 1.6 billion a year. "Venezuela, as modest as it is, is helping Latin America much more than the United States," Chavez said on his weekday radio address. Bush, before embarking on his tour of Brazil, Uruguay, Colombia, Guatemala and Mexico last week, said that aid to Latin America last year from the United States, which has an economy 90 times the size of Venezuela's, was 1.6 billion US dollars. U.S. officials have called Chavez a destabilizing influence in Latin America and a threat to democracy, but the Venezuelan leader has retorted that his government's petrodollars are helping to unite a region where Washington has at times backed authoritarian regimes. The White House said Bush's trip was aimed at underlining the U.S. government's commitment to Latin America, but Chavez repeatedly accused his U.S. foe of coming to divide the region and isolate his government. Chavez claimed Wednesday that U.S. annual aid to Egypt alone surpasses what Washington allocates to all of Latin America. "It's true they scorn Latin America because they have always considered us their backyard," Chavez said. "We're sick of being ... the backyard where they toss their garbage. That's over". The U.S. is the world's largest overall aid donor, though far less generous than Japan and European countries, relative to the size of its economy. A bulk of U.S. aid to the region is military and counter-drug trafficking assistance, for example, in the case of Colombia, which is the top recipient outside of the Middle East and Afghanistan. Critics at home say Chavez's generosity, which includes multimillion dollar donations to extend an airstrip in Dominica and fix a rundown hospital in Uruguay, has been excessive when about a third of Venezuelans remain mired in poverty.