Brazil's Minister of Culture captivates Carnegie Hall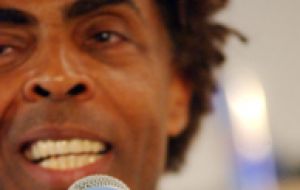 The eleven North American concert dates during March, from Toronto to Tampa, mark Gil's first-ever solo concert tour, which has been created exclusively for this North American run.
Gilberto Gil was born in Bahia in 1942. In the 1960's, with fellow musician Caetano Veloso, he led the musical and socio-political movement Tropicalia, Brazil's most significant cultural movement since bossa nova. Gil was exiled to England in 1969 by Brazil's military dictatorship and there he absorbed diverse elements of international pop culture that he translated to his own music. He has recorded 52 albums, including a tribute to Bob Marley titled Kaya N'Gan Daya which was released in 2002. Gil is a frequent headliner at the major music festivals of Europe. For the last four years, Gil has served as Brazil's Minister of Culture. "Once I was the stone-thrower," he says, referring to his opposition to the dictatorship whose power came to an end in 1980s , "now I am the glass." Gil has initiated a number of important projects during his service in government and has raised the visibility for Brazilian culture around the world. DRG Records Music From Brazil is proud to announce the release of Gilberto Gil's new album, "Gil Luminoso," the only recording in the illustrious career of the foremost Tropicalista-turned-Minister of Culture to showcase his exquisite talent in the minimalist setting of voice and guitar. The album was recorded in 1999 and was packaged as a companion piece to the Bené Fonteles' book "Gil Luminoso: a poética do Ser". The fifteen songs on Gil Luminoso were written over a span of some twenty-five years but they all share a common spiritual character, a quality that is enhanced by the solo performance. Here the inimitable Gilberto Gil reveals some of the deepest philosophical facets of his art. The album's themes are many; some originated with Tropicalia ("Cérebro eletrÃÂÂ'nico"); others refer to self-knowledge ("Aqui agora", "Meditação", "Retiros espirituais"). There are songs that range from celebration ("Tempo rei", "Raça Humana") to politics ("Copo vazio", "O seu amor") to a profound sense of humanity ("Super homem", "Metáfora", "Preciso aprender a ser só"), proving that Gil is one of the most original artists in an illuminated Brazil.