Federal Reserve: Chinese holdings of US dollars "is not a problem"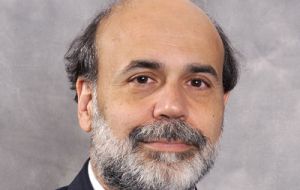 China's accumulation of United States debt is not a problem for the US or for the Federal Reserve monetary policy, said Chairman Ben Bernanke said in a letter dated March 16 but released on Monday.
"Because foreign holdings of U.S. Treasury securities represent only a small part of total U.S. credit market debt outstanding, U.S. credit markets should be able to absorb without great difficulty any shift of foreign allocations" said Bernanke in a letter to Senator Richard Shelby, an Alabama Republican. "And even if such a shift were to put undesired upward pressure on U.S. interest rates, the Federal Reserve has the capacity to operate in domestic money markets to maintain interest rates at a level consistent with our economic goals" added Bernanke. The U.S. central bank chief said official demand for U.S. assets reflects the dollar's role as the world's pre-eminent currency due to the strength and size of the U.S. economy. "I do not believe China's substantial accumulation of reserves in itself represents a problem for the United States or for U.S. monetary policy" he said China held 353.6 billion in U.S. Treasury securities in January, second only to Japan, according to government data published earlier this month. Earlier this year China had accumulated international reserves totalling the equivalent to a trillion US dollars. Many U.S. members of Congress fear that the high amount of U.S. debt held by foreigners is a national security risk. However, Treasury Secretary Henry Paulson said in February the issue is "not high up" on his list concerns," adding it is a good sign that investors are attracted to U.S. assets. Shelby, the ranking Republican on the banking panel, also said the committee has "a great degree of interest" in China's foreign-exchange practices. Bernanke told him while it is difficult to predict where the Chinese Yuan currency would settle if it were allowed to float completely free in currency markets, it would be fair to conclude that the Yuan is currently undervalued and thus providing an effective subsidy to Chinese exports. Chinese monetary authorities have been resisting upward pressure on the value of the Yuan in foreign exchange markets by purchasing dollars and perhaps other foreign currencies, Bernanke said in his letter to Shelby. Many U.S. Congress members and manufacturers believe China deliberately undervalues its currency by up to 40% to make its products cheaper to buy abroad, thereby giving its exports an unfair advantage. The U.S. trade deficit with China reached a record 232.5 billion US dollars in 2006.