It's official: Botnia begins pulp production next September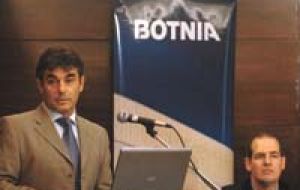 The Uruguay/Argentina controversy over the construction of pulp mills escalated another step Monday when the Finnish company Botnia, next to Uruguayan government officials, announced in Montevideo the plant would begin production next September, which is a month before presidential elections in Argentina.
The "trials program", which is the previous step to formal production, is scheduled for the third quarter of this year. "In all trials only water will be used, no chemicals linked to the production of pulp will be utilized", admitted a Botnia official who also announced that on Tuesday the press will be invited to visit the premises of the plant which so far had remained banned. "We'll be doing mechanical verifications with fluids and hydraulic tests; the plant will use the water from the river Uruguay, but it will be returned in the same condition it was extracted", added the Botnia technical experts. Botnia had long announced that production would begin at the latest in the third quarter of 2007, "probably August/September". The date is most significant not only for the furious residents of Gualeguaychu that have been protesting for months, but also for the Argentine government because it means the pulp mill will be functioning before the October presidential election when President Nestor Kirchner or his wife will try to keep the office in the family. Residents from Gualeguaychu and environmentalists have been protesting for months blocking bridges leading to neighboring Uruguay, claiming the Botnia-Orion plant is highly contaminating and will spoil the region's habitat and tourism industry. The Argentine government in support of picketers argues the Uruguayan government has ignored a 1975 joint administration agreement for the river Uruguay that acts as a natural border between the neighboring countries. President Kirchner has refused to remove the pickets arguing they have a right to free speech and expression. Botnia officials said the civil engineering works of the plant are 90% finished and 50% the equipment for making pulp. From Buenos Aires, Kirchner administration sources said Argentina expects that the coming meeting April 18 in Madrid of Uruguayan and Argentine delegates, under the auspices of the King of Spain in an attempt to reestablish dialogue and find a way out to the dispute, will help to delay production until after the October election. Uruguay has repeatedly supported Botnia saying it's a private company and they have their own timetable, and there's no chance of relocating the plant, as it was once considered as a possible solution to the conflict.