Japan Central Bank committed to gradual rate increases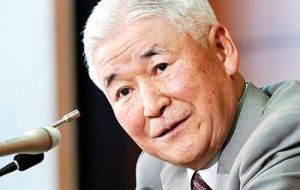 Bank of Japan board members decided to gradually raise interest rates following on developments in the economy and prices, according to the minutes of the February meeting and confirmed by Governor Toshihiko Fukui.
"If the economy steadily keeps recovering and expanding, even at a gradual pace, expectations that rates will be held extremely low for a prolonged period could hamper economic growth" Fukui told the budget committee of the upper house in Tokyo Monday. "We need to adjust interest rate levels according to changes in the economy and prices". Japan's central bank left borrowing costs unchanged last week, a month after it doubled the benchmark overnight lending rate to 0.5%, (by an 8 to 1 vote) the second increase in six years. Fukui said last month that short-term rates are still ''very low'' given the strength of the world's second-largest economy. He repeated that the Japan's Central bank will adjust rates gradually and keep them at very low levels for some time. Fukui also said gains in consumer prices are becoming ''firm'' as Japan's economic growth is becoming sustainable. Core prices, which exclude fresh food, failed to rise in January from a year earlier and probably fell in February, economists predict. Fukui told the Upper House that the bank aims to achieve stable prices over the medium to long term. Reports may show core prices fell in February or this month because of cheaper oil, he said last week. Japan's land prices rose for the first time in 16 years in 2006, a government report showed last week, adding to evidence that the world's second-largest economy is beating deflation. Land price gains, coupled with recent improving economic data, may prompt the central bank to raise interest rates again earlier than investors expect, according to Japanese market analysts. "With the prospects of the economic and price situations improving, the stimulation effect of monetary policy, if the policy interest rate were kept at the current level, could gradually increase" most members agreed. Members said expectations that rates will stay at low levels regardless of changes in the economy and prices could cause the misallocation of funds and resources and hamper the economy's expansion. However Kazumasa Iwata, one of the central bank's two deputy governors, voted against the February rate increase, saying the outlook for prices remained uncertain and consumer spending and wage growth were sluggish, according to the minutes. The central bank needs to explain its outlook for prices clearly when it releases its semiannual report on April 27, the deputy governor added. Japan Central bank policy makers said last year that they consider Japan's prices to be stable as long as they stay in the range of zero to 2%. Fukui said this isn't an inflation target and the bank's policy shouldn't be too bound by the range.