Uruguay sells 500 million US dollars in bonds and tightens credit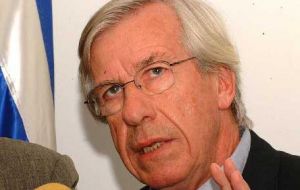 Uruguay sold this week 500 million US dollars in inflation-linked bonds denominated in pesos and due to mature in 2027, at a yield of 4.25% over inflation, said Economy Minister Danilo Astori.
Demand for the paper totaled 1.4 billion US dollars. The government had originally planned to sell 300 million US dollars of bonds. The yield "is just 194 basis points above a comparable issue in the United States (...) in other words, it's an excellent yield," Astori said. While the bonds are denominated in Uruguay's currency, interest and principal are payable in US dollars and adjusted to local inflation. The principal will be repaid in three nominally equal installments on April 2025, 2026 and 2027. Astori said 70% of the notes were placed in the United States, 15% in Europe and the remaining 15% in Latin America. "We are improving the country's (debt) maturities profile but also reducing the dollarization of the Uruguayan economy," Astori said. "This placement means we can nearly cover this year's financing program." Merrill Lynch and Deutsche Bank Securities were the lead managers of the deal. In related news Uruguayan Central Bank authorities announced tighter credit controls to avoid "excessive volatility" in markets. "We decided to cut the marginal credit facility of the Central Bank to 7% annually", said the bank's Chairman Walter Cancela. The decision will be enforced April first with the purpose of keeping the inflation target in the region of 4 to 6% annually in the twelve months to September 2008. "Strong economic growth, private consumption expansion, supply shocks, lesser margins in the labor market and the recovery of profitability in several sectors has created inflationary pressures", said Cancela, and thus the contractive monetary policy beginning in the second quarter. Cancela added that money aggregates on a nominal annual growth base for means of payments "will be adjusted in the range of 9% for the programmed horizon", which means a six points percentage reduction from the 15% announced last December.