Pulp mills protestors begin eight days blocakes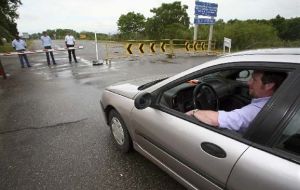 Residents from the Argentine province of Entre Rios and environmentalists begun Saturday an eight days coordinated blockade of all three accesses to neighboring Uruguay in protest for the construction of a pulp mill which they claim will cause irreparable damage to the environment.
Pickets from the cities of Concordia, Colon and Gualeguaychu closed access to the bridges leading to the Uruguayan locations of Salto, Paysandu and Fray Bentos where Finland's Botnia has almost completed the construction of a huge pulp mill, costing an estimated 1.2 billion US dollars, and which has been at the heart of an escalating and irritating conflict between the neighboring countries. With charts and banners saying "Botnia leaves and blockades end", protestors have promised to let no traffic through until April 8 when the so called Holy or Easter Week is over thus impeding thousands of vacationers from traveling across to Uruguay or Argentina, causing heavy losses to the tourism industry on both sides. The conflict which has been taken to the International Court of The Hague, to a Mercosur tribunal is now scheduled to move to Madrid in April when representatives from both countries will be meeting under the "dialogue facilitating efforts" of the Spanish King Juan Carlos. Gualeguaychu residents want the plant relocated arguing potential pollution which Uruguay and the World Bank that is partially financing the plant, flatly reject with environmental assessment evaluations. The Argentine government claims Uruguay has ignored a 1975 joint management of the River Uruguay agreement which obliges partners to share decisions. Uruguay insists it did inform Argentina about the pulp mills. When pickets begun protesting and blocking access to the bridge leading from Gualeguaychu to Fray Bentos, and given the Argentine government passivity towards protestors, Uruguay reacted by denying any talks, much less negotiations until all blockades are lifted. Argentina did manage to convince a second pulp mill belonging to a Spanish company to move further south, on the River Plate coast, from its original location close to Fray Bentos. Argentina also tried unsuccessfully to convince Botnia to suspend construction of the plant for 90 days. Botnia has kept to the original timetable and is expected to begin production next Ausgust/September, just a few weeks before October's presidential and congressional elections in Argentina, which has infuriated President Nestor Kirchner's administration.