"Veggie-fueled vehicle" links Alaska with Ushuaia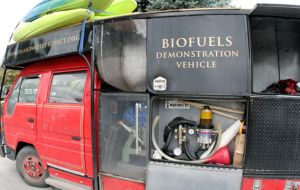 In a fire engine fuelled by Chilean chip fat, Mexican lard, Colombian palm oil, Argentine soybean and corn oil Seth Warren and Tyler Bradt completed last week the longest journey made without diesel or petrol.
Nine months and about 21,000 miles after setting out from Alaska, the two North Americans drove their nine ton "veggie vehicle" into Ushuaia, in Tierra del Fuego. Montana kayakers Tyler Bradt, 20, and Seth Warren, 29, turned their 1987 Toyotaâ€"once part of a firehouse fleet near Mount Fuji, Japanâ€"into a bio-diesel RV, complete with an onboard press that can squeeze fuel directly from grains. "This is proof, hands down, that vegetable oil works," said Warren. With Bradt his fellow kayaker, he secured funding from camping gear, clothing and energy food sponsors. Rising oil prices, declining fossil fuel reserves and concerns about environmental damage have been raising the profile of bio-fuels. Bio-diesel â€" which is made from vegetable oil and can be mixed with, or replace, diesel â€" and ethanol, which is made chiefly from sugar cane and corn, can be used in petrol vehicles. Warren and Bradt, who have set up the Biofuels Education Coalition, a non-profit group, began their trip in July 2006 from Prudhoe Bay heading down the PanAmerican highway, through mountains, deserts and 16 countries. "We used any kind of oil we could find" said Warren. That meant feeding their truck such innovations as salmon oil in Alaska and the rendered-down lard left over after frying pork snacks in Mexico, as well as waste grease from restaurants and more conventional soy oil in Argentina. Vegetable oil is cheaper than fossil fuels and the truck did as many miles to the gallon, Warren said. The only difference is the smell. "It smells of food," he said. "It's better than a whiff of diesel but it just makes you a little more hungry." The two, who hope to extend the trip to Europe, Africa, and Asia, test-drove the truck across the U.S. since March 2006 using grain and discarded restaurant grease to fill the gas tanks to their 180-gallon capacity. They visited Guatemala October 7-15; El Salvador: October 16-23; Nicaragua: October 24-November 9; Costa Rica: November 10-24; Panama: November 25-December 8; Colombia: December 15-January 1; Ecuador: January 1- 15; Peru: January 16-February 1; Bolivia: February 2-25; Argentina/Chile: February 26-April 1 "Energy consumption is one of the biggest problems in the world," explains Seth Warren. "The more energies we can all find to curb our dependence on fossil fuels, the better off we will all be. And so when we found out that we can fuel our truck with waste vegetable oil for free, it was a no-brainer. Each kilometre our rig makes it down the road, the better proof that we have that vegetable oil works!"