Icebreaker "Almirante Irizar" ablaze in the South Atlantic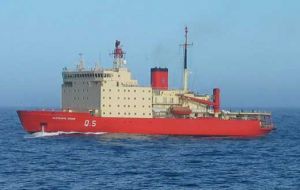 Argentine icebreaker "Almirante Irizar" is ablaze in the South Atlantic and all the crew has abandoned ship in an orderly way, with no loss of life or injured, reported the Argentine Navy Wednesday in a press conference in Buenos Aires.
Apparently fire broke out late Tuesday night in the generator room for unspecified causes and rapidly spread to other sections forcing the captain to order the 300 people on board the evacuation of the vessel. The number includes the crew, scientific personnel and delegations from the Argentine three services. Almirante Irizar was returning to Buenos Aires, where she was expected Thursday, after having completed the 2006/07 Antarctic campaign, when fire broke out at 22:00 hours, 140 miles off Puerto Madryn. Two hours later the captain gave the order to abandon ship and early Wednesday an estimated 60 crewmembers remained in life boats, the rest having being rescued by a Panamanian bunker and Uruguayan fishing vessels. Argentine Navy and Coast Guard units are also in the area with air support from P-3-Orion, Hercules C 130 and patrol aircraft. The Argentine Navy press office said Captain Guillermo Tarapow and a couple of officers remain on board since the prevailing opinion is that the vessel can be recovered in spite of the extent of losses caused by fire and smoke billows. The rescued crew members are expected to arrive in Puerto Madryn late Wednesday evening, where following a quick medical check will be flown to Buenos Aires. "Almirante Irizar", Argentina's Antarctic operations flag carrier begun the current campaign last December 12, supplying Argentine bases and was involved in transport and support operations for scientific research. The orange hulled twelve decks 119 meters long vessel was built in Finland in 1975 and since 1978 has been working for the Argentine Antarctic program. She has a 14.899 tons displacement, can sail at a maximum 17.2 knots can break through ice one meter thick and carries two Sea King SH-3D helicopters. In 1982 "Almirante Irizar" was involved in the Falklands' conflict as a hospital vessel and in 2002 helped rescue the German scientific vessel Magdalena Oldendorff trapped in the Antarctic ice with temperatures below minus 35 degrees Celsius. The icebreaker is named after Captain Julian Irizar who as commander of the Argentine Navy corvette "Uruguay" in 1903 rescued a Swedish scientific expedition that had been lost in Antarctica since the previous year.