Venezuela hosts South American energy summit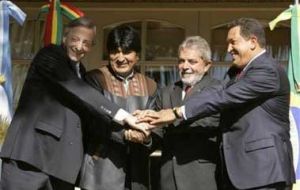 Ethanol production is expected to dominate the energy summit of South American nations which has got underway Monday in the Venezuelan Caribbean island of Margarita.
Venezuelan President Hugo Chavez is at odds with Brazilian counterpart Luiz Ignacio Lula da Silva over the scale of ethanol output in developing countries. Venezuela is the region's only member of the oil-producers' cartel Opec and Mr Chavez opposes the use of ethanol. Brazil recently signed an alliance with the US to promote ethanol production in Central America and the Caribbean. President Lula has rejected criticism from President Chavez and others that the use of ethanol as a bio-fuel would use up valuable arable land and increase food prices. Since the first oil shocks in the seventies Brazil is a pioneer in the use of ethanol made from sugar cane to power cars. "All South American countries and Africa can easily produce oil seeds for bio-diesel, sugar cane for ethanol and food at the same time," Lula da Silva said on his weekly radio programme. Argentina's Nestor Kirchner a close friend of Chavez and crucial partner of Lula da Silva in Mercosur, is expected to play a moderating role in the meeting to which Uruguay has sent its vice president Rodolfo Nin Novoa. Welcoming the leaders to Venezuela, Mr Chavez said increased economic co-operation was needed as a counterweight to US power in the region. "We are above all South Americans," he said. "We should put all efforts into creating the great homeland that is South America. Also on the agenda for the two-day meeting is a proposed continental bank to rival institutions like the International Monetary Fund and plans to build a network of gas pipelines in the continent. According to Argentine sources the final declaration will focus on gas and electricity connectivity; alternative fuels and medium and long term agreements. Besides host Chavez, Kirchner, Lula da Silva also present at the meeting are: Bolivia's Evo Morales; Chile's Michelle Bachelet; Colombia's Alvaro Uribe; Ecuador's Rafael Correa; Guyana's Bharrat Jagdeo; Paraguay's Nicanor Duarte Frutos; Peru's Alan Garcia and Ronald Venetiaan from Surinam.