Faeroe Islands' trawler on fire off south Chile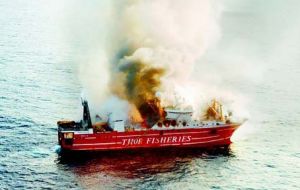 One crew member dead and eight disappeared is the primary balance of a fire which broke out Friday night in the Faeroe Islands flagged factory vessel BF Hercules, operating 280 nautical miles south east of Ancud, (next to Puerto Montt) reported Saturday morning a release from the Chilean Navy.
Apparently a Peruvian crewmember from sister ship BF Poseidon reported the accident on the radio to the Chilean Navy. BF Hercules had a crew of over a hundred, and most of them were rescued by other fishing vessels operating in the area, Vanuatu flagged Frig and Freyy. All the vessels involved belong to Thor Fisheries Ltd from the Faeroes. BF Hercules captain Norwegian Asker Gryten who is currently in BF Poseidon reported fire was detected at 20:45 local time and flames and smoke quickly spread so he ordered the crew to abandon ship. According to the Chilean Navy most crew members from the BF Hercules were rescued in good condition, with only one dead, found on the deck of the vessel, and apparently eight Chinese members still missing for which an air and sea search and rescue operation is on course taking advantage of favorable weather conditions and good visibility. Thor Fisheries Ltd BF Hercules and BF Poseidon are described as pelagic trawlers factory vessels catching horse mackerel and had left Panama March 24. The vessel remains afloat but some flames can be seen with abundant smoke adds the report. At attempt to board BF Hercules is planned for the next hours.