Cuba plans to become oil refined products exporter in 2008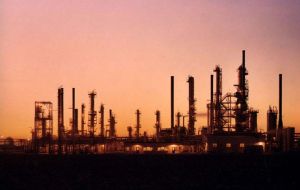 A refurbished oil refinery set to begin production next December could turn Cuba from a net import dependent to an oil refined products exporters, according to the official press in Havana.
Overhauled with funds from a joint Venezuelan-Cuban company, the Cienfuegos refinery in south-central Cuba will meet the country's demands and have a surplus 9,000 barrels of gasoline a day for export, revealed Venezuela's Communications and Information Ministry. Cuban Vice President Carlos Lage confirmed the refinery was scheduled to start operations in December, the Juventud Rebelde newspaper reported Sunday. Lage added the refinery would process 65,000 barrels per day of petroleum by late this year or early 2008. The announcement is part of a wider plan from Cuban authorities to make the islands self sufficient in oil and gas with the exploitation of major off shore deposits. "We are sure. We are convinced" that major oil reserves in the Gulf of Mexico just north of the island are waiting to be discovered, Basic Industry Minister Yadira Garcia told reporters at the Geosciences Conference 2007 in Havana earlier this year. Currently Cuba's oil demand is met mostly by cut-rate petroleum from Venezuela, its closest international ally and most important economic partner. "2008 is going to be very promising insofar as undersea seismic studies and drilling in areas of our economic zone" said Garcia who anticipated that next year begins "the drilling phase in the blocs we are working with Repsol-YPF". Besides Repsol-YPF other companies in Cuban waters include Norway's Norsk Hydro, Canada's Sherrit, Malaysia's Petronas and India's Videsh. Venezuela's PVDSA is also expected to participate in some of the blocks in Cuba's exclusive zone. Repsol in 2005 was the first to break ground in the area, but the company determined the crude discovered was not commercially exploitable at that time. However in 2006, Cuba produced about 3.9 million tons of oil, seven times more than 1990 when the former East bloc collapsed, depriving Cuba of its long-accustomed supply of cut-rate Soviet crude.