British support to replace Argentina's stricken "Irizar"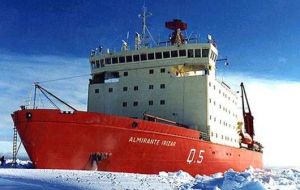 Britain has offered Argentina support for its Antarctic operations following the recent fire that broke out in icebreaker "Almirante Irizar" and which could force the vessel out of action for almost two years.
According to the Buenos Aires press UK's Embassy Defence Attaché Captain Christopher Hyldon informed Argentine authorities of the British logistics and bases re-supplying offer for the next Antarctic campaign 2007/08. Almirante Irizar suffered a serious accident in the high seas when the generator room caught fire and rapidly extended to the engine room. Although there was no loss of life, the icebreaker had to be towed back and preliminary assessments indicate it could take two years before she's back sailing. Argentina's press says that the offer comes just a few weeks after President Kirchner's administration unilaterally decided to withdraw from the joint South Atlantic oil exploration agreement, a move which was interpreted as "political" in an electoral year which coincides with the 25th anniversary of the Falkland Islands 1982 conflict. The British "gesture" in the framework of the "Antarctic cooperation spirit" is seen as very much to the point since icebreaker "Irizar" is the only means Argentina has to resupply the most polar of all its bases Belgrano II. The Argentine press speculates that the "mythical" HMS Endurance, (because the name is closely linked to the 1982 conflict), would be involved in the support operation since she supplies the British Antarctic Survey Halley base, close to Belgrano II. However, much will depend on the attitude of Defence Secretary Nilda Garré and Foreign Affairs Secretary Jorge Taiana who have been the visible characters in the cooling of naval relations with Britain. For example the Argentine naval school vessel, tall ship "Libertad" cancelled its London call in this year's cadets' world tour as was an invitation to a couple of British cadets to join the tour. However a couple of years ago HMS Endurance, which has called in Ushuaia on more than an occasion, was repaired in Argentina's main naval base Puerto Belgrano when she suffered rudder problems. It was also revealed that Argentina is also considering an offer from Brazil's polar scientific vessel "Ary Rongel" which can deliver summer logistics support for most Argentine bases but not further south where an ice breaker is needed.