New Argentine protests against Uruguayan pulp plant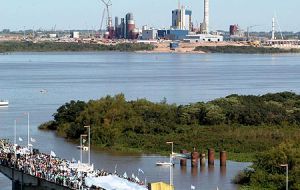 Thousands of Argentines rallied Sunday as part of the third annual large-scale protest against an Uruguayan paper plant that has soured relations between the two South American countries.
The demonstration took place at a border crossing that protesters have blocked for months. Caravans of activists waving Argentine flags rolled into Gualeguaychu, 125 miles (200 kilometers) northeast of Buenos Aires, to join in a so-called "symbolic embrace" of the Uruguay River. "Yes to life, no to the paper mills!" read banners lofted by marchers opposed to plans by the Finnish company Oy Metsa-Botnia AB to complete the plant going up near Fray Bentos, Uruguay. The plant is reported to be more than 80 percent complete. The demonstrators, who since 2005 have sporadically blockaded all three international border crossings with Uruguay, contend the plant will cause lasting damage to the river and farmland. Uruguay has countered that all pollutants will be within internationally acceptable limits. Spanish ambassador Rafael Estrella, in comments published Sunday in La Nacion newspaper, said intermediaries had discussed creation of an "ecological conservation zone" as a first step toward a settlement of the feud. Neither government had any comment Sunday on the proposed green zone.