Attacker of Rio Gallegos Kirchner's property diagnosed "psychosis"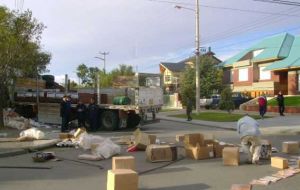 A new psychiatric report revealed that the Chilean born citizen that last week end tried to ram a heavy truck against a Rio Gallegos house belonging to Argentine President Nestor Kirchner is suffering from "psychosis".
The diagnosis contradicts an earlier report which said that Chilean born Jose Walter Mansilla, 33, was well aware of the "criminality of his actions", according to judicial sources quoted by Argentina's government news organization, Telam. The new diagnosis was prepared by a psychiatrist and delivered to the Judge of the case who is investigating the alleged "attack" last Saturday against one of the several properties of the Kirchner family in the capital of Santa Cruz province, the political stronghold of the current Argentine president. The magistrate on Monday called the Federal Police to help determine the psychiatric profile and background of the truck driver which remains in custody. The Kirchner administration insists in describing the event as an "attack" and President Kirchner criticized the opposition for "doubting" the facts. He also revealed on Monday that he and his family receive daily death threats. According to Rio Gallegos police report last Saturday Mansilla got hold of the truck and at full speed begun a "violent" drive in the heart of the city injuring six people, ramming ten cars and finally targeting, at full speed the Kirchner residence before turning over. Meantime the employer of the security company for which Mansilla works visited him in jail and found him "extremely disturbed and incoherent" and strongly dismissed that he could have "planned" or "executed" such an attack. The Kirchner administration is currently facing strong allegations of corruption involving some of his closest associates who apparently took money from a Swedish company that won a contract to build gas pipelines. The claim and evidence have been presented by reputed opposition Congress members and according to the Buenos Aires press the Rio Gallegos incident is helping to take the heat and public opinion interest from the corruption claims.