High seas ceremony to remember sinking of "General Belgrano"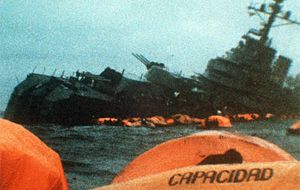 The Argentine Navy is planning for this coming Friday a high seas homage to the 323 crewmembers lost when the sinking of the cruiser "General Belgrano" on May 2, 1982, by two torpedoes from the Royal Navy's nuclear submersible HMS Conqueror.
The commemoration will take place on board the multipurpose transport vessel "Hercules", escorted by the corvettes "Granville" and "Guerrico". Defence Secretary Nilda Garré and Commander of the Navy Admiral Jorge Godoy will lead the ceremony that includes 140 special guests between officials and relatives from the Belgrano crewmembers. The commemoration was originally planned for the icebreaker "Almirante Irizar", but the program had to be changed when the Antarctic vessel caught fire a few weeks ago and was left non operational. The delegation will be flown to Ushuaia from Buenos Aires Thursday evening and at 17:00 hours the Hercules will depart for the Beagle Channel, next to the Isla de los Estados where the ceremony is to take place the following day. If weather conditions are good the small flotilla could sail an additional 20 miles to the outer limit of the Belgrano's then area of operations. The old US built cruiser, survivor of Pearl Harbour, was actually sunk 240 nautical miles south east of Ushuaia on May second. The ceremony was moved two days because on Wednesday May 2 the Argentine Air Force is commemorating its "baptism of fire", an event that will count with the presence of President Nestor Kirchner. On Friday at 15:00 hours, flower wreaths will be let down on the sea following speeches from minister Garré and Admiral Godoy who are scheduled to arrive on helicopter. "General Belgrano" carried a crew of 1.093 on her last trip and was hit by the torpedoes at 16:01 hours May 2, 1982 and went down at 17:00 hours. Forty minutes earlier Commander Hector Bonzo ordered the crew to abandon ship. Two Argentine destroyers were escorting General Belgrano when the incident but fearing further torpedoes abandoned the scene. In spite of the controversy surrounding the sinking of the old cruiser, in the fringe of the sea and air exclusion zone imposed by the British, and the highest loss of life in any action of the war, the Argentine Navy has always asserted the flotilla was on an attack and destroy mission.