Falklands stamps issue honours dead British and Islanders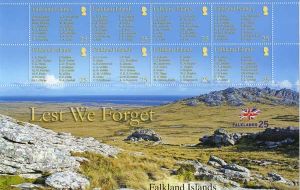 Next June 14 two sets of stamps, aptly entitled "Lest We Forget", will be officially released in coincidence with the 25th anniversary of the Falkland Islands "Liberation Day", which marked the ousting of Argentine forces from the Islands and the end of the 1982 South Atlantic conflict.
The set of stamps list the names of all the British contingent together with the three Islanders who lost their lives in the campaign for liberation is a unique issue within the philatelic world. For the first time a Country and its people pay thanks to each individual by name and this set of 16 stamps stands as a memorial in the same way as the sculpted memorials that already exist in Port Stanley, St Paul's Cathedral and Pangbourne Chapel. On June 14th there will be two first day covers for this issue, each bearing a strip of eight stamps only. The stamps come in two sheets of 8 valued 25p and another 8 valued 60p and measure 28.45x42.58 mm. The design of the common envelope shows H.R.H. The Princess Royal laying a wreath of poppies at the base of the Liberation Monument in Stanley earlier this year. A total of 255 British Servicemen, 3 civilians and 649 Argentines died during the 74 days of the occupation and conflict. The number of casualties was far greater. On June 14 Major General Jeremy Moore, Commander of the British land forces sent a message to London stating "The Falkland Islands once more are under the government desired by their inhabitants - God Save the Queen". Then Prime Minister Margaret Thatcher summed up the conflict to Parliament, saying "The battle of the Falklands was a remarkable military operation, boldly planned, bravely executed and brilliantly accomplished. We owe an enormous debt to the British forces and to the merchant marines. They have been supported by a people united in defence of our way of life and of our sovereign territory.... We went to recapture the Islands, to restore British sovereignty, to restore British administration. I do not intend to negotiate on the sovereignty of the Islands in any way except with the people who live there."