LAN airlines forced to abort take-off from collapsed Ezeiza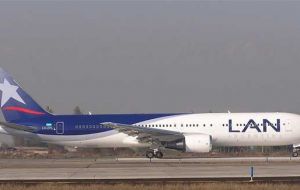 The argentine air force reported a new aircraft near miss, the second since May 7, although air unions claim that since that date there have actually been four near misses amid Argentina's collapsed air traffic system.
The pilot of an Airbus 340 belonging to Chilean company LAN airlines on Thursday aborted a take-off from Ezeiza international airport because a Mexicana airlines plane was being towed across the tarmac at the same time. LAN also reported the incident. The LAN aircraft had been given the green light to take off at 6.27pm on a flight to the Chilean capital of Santiago, Argentina's Regional Air Command said in a statement. "However, the plane's captain suspended the takeoff on seeing that a Mexicana Líneas Aéreas plane was being towed across the tarmac which was being used. Hence LAN (flight) 466 returned to platform." "Controller Oscar Díaz was immediately removed from the control tower and the pertinent investigations were started as, on first appraisal, everything seems to indicate that there was negligence on the part of the air traffic controller," the statement said.