Helicopter Pilots Finish Record Pole-To-Pole Trip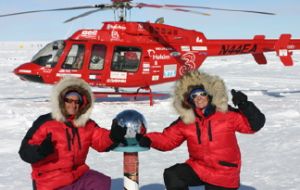 Two British-based pilots completed this week a record-breaking helicopter journey to both the North and South Poles, touching down at the Texas airport they left more than five months ago.
"We made it, we're here, we did it!," said a visibly emotional Jennifer Murray, 66, after she and co-pilot Colin Bodill landed their cherry-red helicopter at Fort Worth Alliance Airport, where a crowd of about 120 greeted them. "We had tough times and we've had great times," she said. Their 171-day expedition was one of the last great unaccomplished feats of aviation. They flew 32,206 nautical miles (59,646 km) through 26 countries and made 101 fuel stops en route. During a first attempt in 2003, the pair had a harrowing experience when they crashed in Antarctica 58 days into their journey. Both were seriously injured. The pilots said they noticed the impact of climate change this time round. "I think we can say that much of the bad weather we encountered is attributable to global warming ... When we landed on the northern tip of the Antarctic Peninsula it was bare of snow," Murray said. Bad weather in the Antarctic forced the pair to spend several days holed up in tents and abandoned huts. One of the longest stretches of the flight, and one of the most perilous, was the more than 500 nautical miles (926 km) over open water between the tip of South America and Antarctica. After reaching the South Pole the pair double backed along the same Antarctic route. The North Pole was reached via an approach from Canada and the return Arctic journey also took them over Canada. Problems with permits and weather scuttled an initial plan to return via Russia. "We effectively did a figure eight over the Americas" said Bodill. The expedition also raised money for SOS Children's Villages, a charity which helps orphans. Fuel was stored in advance in caches in the more remote polar regions and the pilots found them using a satellite-based global positioning system. More details are on the Web site (http://www.polarfirst.com). Murray, a U.S. native, was educated in Britain. She entered the Guinness Book of Records in 1997 as the first woman to circumnavigate the globe in a helicopter. Bodill, 56, is a British helicopter pilot who holds the record for flying around the world in a weight shift micro light or ultra light aircraft.