Record demand collapses Bs As natural gas system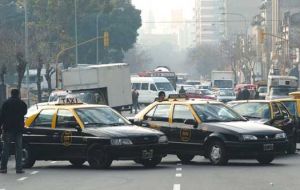 Private car owners and taxi drivers waited patiently in long queues early Wednesday morning in Buenos Aires, hoping to load their fuel tanks although most compressed natural gas CNG stations remained closed or working with an only pump.
Argentina was forced to severe natural gas supplies and ration electricity on Monday/Tuesday as a cold wave prompted record demand for fuel and electricity. The temperature in many parts of Argentina fell below freezing this week pushing electricity demand to a record 18,300 megawatts, according to the country's energy regulator. The ban on gas deliveries was also extensive to Chile jeopardizing supply for an estimated 1.2 million residential users in eastern Santiago and increased energy costs for mining companies as power generators switch to more expensive diesel fuel. However the Argentine government insisted that in the coming hours as temperature rises, supply should become normal, according to Buenos Aires press reports. "It was a preventive measure to preserve the good functioning of the system", said Fuels Deputy Secretary Cristian Folgar, who forecasted that as the weather improves, "provision of natural gas should begin to normalize". Cristian Folgar, Argentina's undersecretary for Fuels said in an interview with state-run Telam news agency that the country won't have problems meeting demand. "We're calm," Folgar said. "Our two systems of gas and electricity are functioning at full capacity and this will be sufficient to meet the demand we have." Folgar also insisted that at no time the provision of natural gas to Chile for residential and commerce use "was shut down". Apparently Santiago and the neighboring Argentine province of Mendoza had to manage with accumulated reserves and residual gas in the pipelines. Furthermore the president of the independent service stations, Eduardo Bajlec, revealed that Tuesday night he received a communiqué from Metrogras, one of Buenos Aires main distributors informing that CNG sales at stations was cancelled. Another distributor also called on its 348 service stations to cut CNG sales as much as possible and "if temperature rise, restrictions come down". Taxi drivers and owners of vehicles working on CNG are also threatening with a strike because "with no fuel, there's no work, no profit". Buenos Aires daily La Nacion reported Wednesday that the natural gas system had collapsed since pressure in the pipelines dropped by 25% which in practical terms means all CNG service stations are virtually non operational, according to regulators. "There's no short-term solution to the shortage of gas" energy consultant Francisco Mezzadri, the former head of natural gas operations at CMS Energy Corp., said in a phone interview. "Electricity prices have been frozen since 2002, a new pipeline from Bolivia has yet to be built and domestic gas reserves are declining. It's a critical situation''.