HMS Endurance in Portsmouth following longest deployment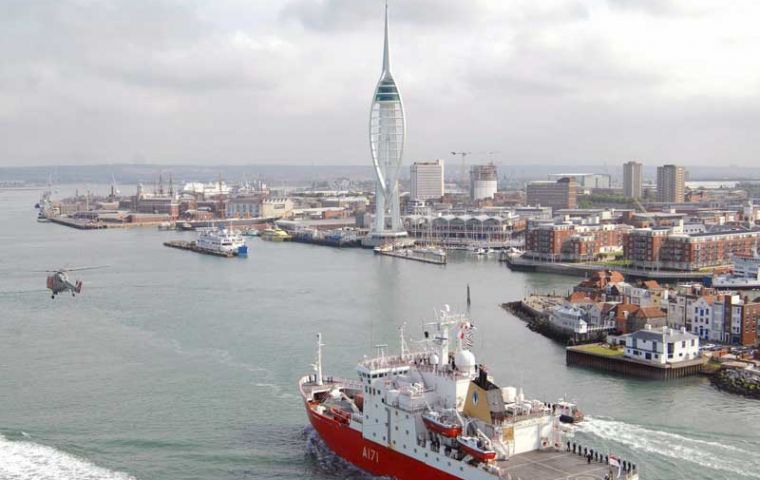 Portsmouth-based ice patrol ship HMS Endurance returned Friday June 1 from Antarctica where she helped gather vital information on climate change and global warming.
She also surveyed uncharted waters which are becoming a haven for tourists on cruise ships, and carried out a fur seal study for the British Antarctic Survey. During nine months away â€" the longest deployment in her 17-year RN service - Endurance worked closely with BAS scientists at various field camps in the region, supporting their ongoing research into climate change, including ozone depletion. And she used her hi-tech multi-beam echo sounder to survey 15,500km of seabed, mostly in the Antarctic Peninsula where more and more sightseers are heading each year. Data collected is passed to the UK Hydrographic Office in Taunton and turned into charts for navigational safety. The fur seal study, carried out around South Georgia, looked at the life cycle of the abundant species and its impact on plankton and krill that form the basis of the food chain in the southern oceans. In contrast Endurance conducted filming for the BBC television series Planet Eartth. A high definition gyron camera was used by the ship's Lynx helicopters to capture dramatic images across the North Eastern Antarctic Peninsular. The Foreign and Commonwealth Office also benefited from the ship's deployment as she conducted inspections of Antarctic bases under the auspices of the Antarctic Treaty. In March Endurance hosted a royal guest for eight days. The Princess Royal visited the BAS's main base at Rothera to see first-hands the work of British scientists. And in her capacity as patron of the UK Antarctic Heritage Trust she visited some of the UK's historical sites in the British Antarctic Territory, including Port Lockroy â€" the only historic site in Antarctica to operate as a living museum.