Antarctic Chill Kills 31 In Argentina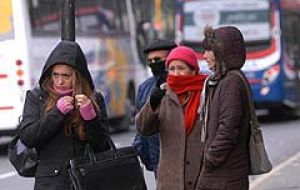 The cold spell that gripped Argentina since early this week has left 31 dead, the Spanish news agency EFE reported.
Two people died from inhaling carbon monoxide from the heating system inside their car. The bodies of a man of 22 and an 18-year-old woman were found Friday inside a vehicle in the central province of Cordoba. Firefighters also reported the deaths of three elderly people found in their home in a Buenos Aires suburb with all the gas outlets turned on. Meanwhile a homeless person died in a house under construction in the western city of Mendoza where he sought shelter from the cold, the police said. While some of the victims have died as a direct result of the cold, others perished when fires used for warmth led to carbon monoxide poisoning or burned victims to death. The most shocking incident occurred in the central province of Cordoba, where eight people died when the fire they started to warm the abandoned freight car they were inhabiting turned into a blaze that consumed the makeshift residence. The bone-chilling cold has also caused problems with the supply of natural gas to heat homes and other buildings, resulting in dozens of schools all over the country having to suspend classes.