Last survivor of German battelship Graf Spee dies in Montevideo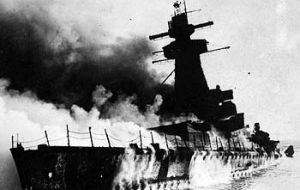 Gustav Friedrich Adolph Quick, 89, the last surviving crew member of the German pocket battleship Graf Spee that was scuttled in the River Plate at the beginning of World War II, has passed away and was buried Saturday in Montevideo.
A well-known personality in Uruguay's German community, he died late Friday after a lengthy illness, according to his grandson, Tobias Friedrich. "He was very ill". Friedrich Adolph was buried in the British Cemetery instead of the Del Norte Cemetery, where about 50 of the Graf Spee's crew members who died in Uruguay are buried. He was 19 when he joined the Graff Spee, first in the engine room and later in the guns' turrets. The battleship was sunk by its commander, Capt. Hans Langsdorff, in the River Plate 17 December 1939 to keep it from falling into British hands. Four days previously the Graf Spee had been seriously damaged during the Battle of the River Plate by a British fleet under Admiral Henry Harwood comprised of HMS Exeter, HMS Ajax and HMNZS Achilles, which were guarding South America's Atlantic coast. Thirty-seven German sailors were killed in the confrontation and Captain Langsdorff was wounded, along with 57 other of the Graf Spee's men. The Graf Spee was hit more than 30 times by shells fired from the British vessels, rendering it practically unable to function. Early on the night of Dec. 13th, the battleship entered the River Plate and docked at Montevideo's port and Langsdorff presented a report to Uruguayan authorities claiming that since the vessel was having navigation problems - due to the combat damage it had sustained - it was justified in entering the port for repairs. The German dead were buried in a Montevideo cemetery and the wounded - five of whom were seriously injured - were treated at local hospitals. The Uruguayan government, which at that point in World War Two was still maintaining its neutrality, invoked international practice and asked the Graf Spee to leave the port after four days, on Dec. 17, upon which Langsdorff decided to scuttle her. The battleship left the port and was blown up in the River Plate after its crew was transferred to a German merchant vessel, which transported them across the broad estuary to Buenos Aires. Langsdorff committed suicide several days afterward in the Argentine capital. Most survivors of the German ship settled in Uruguay and Argentina, where they married and raised their families. A few years ago a team of submarine rescuers including Falkland Islander Mensum Bound, a marine archeologist from Oxford were successful in recovering one of the guns of the sunken German battleship. Later they were able to extract the telemeter, a state of the art piece for its time which gave the battleship's guns unequalled precision, and lately a huge 400 kilos bronze Nazi eagle incrusted in the stern of the ship and which was emblematic of the German Navy.