Argentina cuts gas supply to Chile as energy crisis worsens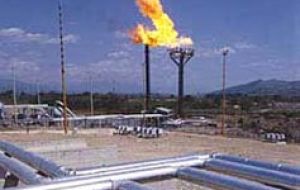 Argentina suspended Wednesday natural gas shipments to neighbouring Chile to ensure domestic supplies as one of the coldest winters in recent history grips Argentina, Chile, Uruguay and the south of Brazil.
Chile's National Energy Commission said residential customers in the country's centre can be supplied with residual gas from the Gas Andes pipeline provided the measure is temporary. "Argentina has been exporting in a way that defies reason and it doesn't even have enough gas to meet its domestic demand'' said Gustavo Calleja, an Argentine former undersecretary of fuels between 1983 and 1986. Argentina's demand for energy has soared with four years of sustained economic growth exceeding 8%. At the same time, lower- then-expected rainfall has cut electricity output at hydro- electric dams. In winter, gas consumption jumps as Argentines use the price-controlled fuel to heat poorly insulated homes, while demand for electricity also rises, increasing the gas needs of power generators. To ensure sufficient residential energy, President Nestor Kirchner has in the past month asked 4,000 manufacturing companies to curtail electricity use and applied gas restrictions to about 900 businesses. Argentina is in the throes of a cold wave that on July 9 saw Buenos Aires' first snowfall in almost 80 years. Chile, the world's largest copper producer, receives almost all the natural gas it needs from Argentina. Chilean Energy Minister Marcelo Tokman last week launched a massive media campaign to encourage people to save energy. Hoping for weather improvement Argentina had promised that at mid week she would begin to normalize gas supply to Chile but peak consumption outstripped Argentina's energy resources.