Peirano expected to confirm Argentina's economic policy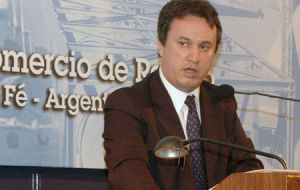 Argentina's Industry Secretary Miguel Peirano was the man finally chosen by President Nestor Kirchner to head the Economy Minister for the few months left of his administration that officially ends next December 10.

Peirano, 40, is scheduled to take office Tuesday at 19:00 hours.
According to Buenos Aires press reports Peirano belongs to the so called Commitment K, the grouping of followers from other parties who decided to join behind President Kirchner's horizontal, catch-all political project. He also has long standing links with the Argentine Industrial Union, the country's strongest manufacturing industries lobby. This also coincides with the Kirchner's administration strong "re-industrialization" process. Given his credentials, Peirano is even tipped to continue in office in the event that First Lady Mrs. Cristina Kirchner wins the October presidential election. "Miguel Peirano has been working for us for a long time. He has an important background", said cabinet chief Alberto Fernandez who also insisted that the resignation of Felicia Miceli will not have an impact on the government's image. Meantime the Argentine Industrial Union was celebrating and with good reason. Two of its most prominent economists and supporters of the manufacturing sector have clue jobs: one of them is Debora Girogi currently Production Minister in the province of Buenos Aires and now Miguel Peirano, who as of tomorrow becomes the country's Minister of Economy. Peirano has repeatedly been described as a pro manufacturing and pro national production economist, following a decade when Argentina fell in love with privatizations, open markets, strong currency and a flood of imports that caused massive unemployment in manufacturing industries accustomed to be cushioned from foreign competition. Peirano was called by former Minister of Economy and currently presidential candidate Roberto Lavagna to join the Kirchner administration in 2005 where he soon became Secretary of Industry. When Lavagna was replaced he was confirmed by Miceli. Before joining the federal government he had worked for the Exterior Investment and Commerce Bank, and was chief economist of the Argentine Industrial Union for almost ten years. He also worked a couple of years for Techint, one of Argentina's main public works' contractor and a global supplier of pipes for the oil industry. In the financial sector he worked in the Foreign Trade Department from Sudameris Bank and as advisor to the board of the Buenos Aires Province Bank.