Argentine farmers flock to Buenos Aires for Palermo show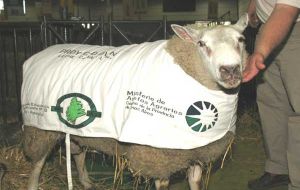 The Argentine Rural Society kicks off Thursday its 121st show at the grounds in Palermo, Buenos Aires City, at a time when the farming sector is undergoing a bonanza with high international commodity prices, but also a number of domestic issues that have caused numerous protests over the last year.
The organizers of Argentina's largest and most internationally renowned agriculture show said Monday that this year there will be a total of 3,835 animals ranging from horses to rabbits and with a strong emphasis on cattle breeds that have become one of the highlights of the event. Besides the livestock, there will also be more than 620 stalls, exhibiting everything from the latest farming machinery to every other service that is linked to the farming sector. "It will be a fabulous show of the technology used by the sector to grow and reinvent itself, both in animal genetics as well as farm machinery," the president of the Argentine Rural Society, Luciano Miguens, who added: "there is as much technology developed in the molecule of a cow as there is in the motor of a harvester". Although it has been traditional for the president of Argentina to officially open the show, Miguens was unable to confirm whether Néstor Kirchner will be opening the show this year. On several occasions in the recent past the President's opening speech was received with catcalls, a situation that some Presidents have not wanted to put up with. While grain and beef exporters may have been enjoying the bonanza brought on by high international commodity prices and strong global demand, they have also had to deal with caps on beef and dairy exports, restrictions on grain shipments and other issues such as scarce fuel supplies, local taxes all issues that a visiting president could be forcefully reminded of. The show opens to the public this week and runs till August 7. The organizers are expecting at least one million visitors at the show.