First RN Type 45 destroyer begins period of sea trials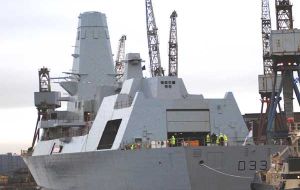 The first of the Royal Navy's latest Type 45 warships, "Daring" – the largest and most powerful air defense destroyer built in Britain – sailed late this month down the Clyde to begin an intensive period of sea trials.
The 7,500 tons vessel will remain under the control of her builders, BAE Systems Surface Ship Solutions, during this trials phase, which is expected to last for about four weeks. During this period her builders will trial the ship's innovative all-electric propulsion system, and her maneuvering and navigational systems to ensure the ship is seaworthy and safe to sail on the high seas. Her main 4.5in caliber gun will also be fired using inert shells on the Benbecula range, not to test its accuracy, but to test the loads it places on the structure of the ship. The Senior Naval Officer on board the ship, Commander Dave Shutts, said: "This is a great day for everybody who has been involved in the Type 45 Destroyer project since its inception in 2000. It is the first time Daring has moved and steered under her own power. "Both I and the rest of the Royal Naval ship's company – and the many contractors' staff on board - have been looking forward to this event for a long time. It's not every day you take a First-of-Class warship to sea." "Daring" is the first all-electric ship in the fleet and uses two powerful Rolls Royce fuel-efficient gas turbines, backed with two diesel generators to produce 40 Megawatts of power. This is supplied to huge electric motors that can drive the ship at up to 29 knots. The ship's hull and superstructure employs radical "stealth" shaping to reduce her radar echo in order to make her more difficult to attack. Her combat system, which will be tested during exhaustive trials next year, is centered on the immensely sophisticated Principal Anti Air Missile System, which equips the ship to protect herself and other ships from attack by a range of advanced missile.