Pulp mills dispute: "direct dialogue" moves to New York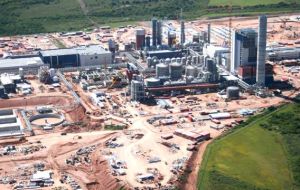 Two days of "direct dialogue" between Uruguayan and Argentine diplomats over the pulp mills dispute is scheduled to begin next Monday in New York under the auspices of the Spanish Crown which is acting as coordinator of the round of talks.
The Uruguayan delegation is headed by the Foreign Affairs ministry number three, Ambassador Jose Luis Cancela and Argentina's by the Legal Counselor of the ministry, Ambassador Susana Ruiz Cerruti. Spain will be represented by its United Nations ambassador Juan Antonio Yañez-Barnuevo. Both delegations also include environment and legal experts. This Saturday Spain's Foreign Affairs ministry announced that next Monday and Tuesday in New York delegations from both countries will be holding the second technical meeting of the "direct dialogue" with the purpose of finding a solution to the pulp mills dispute. Uruguay is building a pulp mill on a shared river which Argentina objects on environmental and technical grounds, and which local residents on the Argentine coast have tenaciously opposed with pickets blocking bridges linking the neighboring countries. The two days talks will be held at the seat of Spain's permanent mission in United Nations and is a continuation of the May meeting which took place in Madrid. The "dialogue facilitating" efforts as they have been defined are sponsored by the Spanish Crown. In the last meeting a proposal to relocate the Botnia pulp mill was put for consideration on the table and Uruguay is expected to defend and sustain the current location, besides the fact the plant is already on the trials stage and is scheduled to begin full production next September/October. The meeting takes place ten days after Uruguay's presentation before the International Court of The Hague (another bilateral litigation scenario) of a document arguing that by authorizing the Botnia pulp mill it has not violated the 1975 River Uruguay statute for the joint management of the basin's resources.