Global impact from the US deteriorating housing market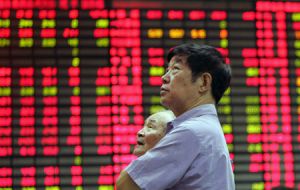 Stock markets across Asia have suffered heavy falls on fresh concerns over the impact of the problems in the US housing market which on Tuesday caused sharp losses on Wall Street.
Financial problems at a US mortgage lender and Macquarie, the Australian bank, prompted the sell-off. Japanese stocks were among the worst hit, with the Nikkei down 2%, with big falls also in Hong Kong and Korea. Fears remain that a credit squeeze will take its toll on economic growth. Japan's main share index, the Nikkei 225 was down 348.1 points, or 2%, at 16,900.80 in late afternoon trade in Tokyo, dropping below the 17,000 level for the first time in four months. Hong Kong's Hang Seng index sank 3.31% to 22,417.84 and dragged down shares listed in mainland China, while Korean stocks were also affected by the volatility in equity markets. Korea's Kospi index tumbled 2.1% as exporters such as carmaker Hyundai and semiconductor firm Samsung Electronics tracked losses in the US. On Tuesday in New York, the Dow Jones index closed down 146.32 points at 13,211.99 as fears about the US housing market resurfaced after American Home Mortgage Investment said it was suffering credit problems and would consider going into liquidation. Nasdaq closed 1.43% down and S&P500, 1.26%. July ended with losses for the Dow Jones, 1.5%; Nasdaq, 2.2% and S&P500, 3.2% the largest drop since July 2004. In Latinamerica Brazil's Bovespa on Tuesday lost 0.71%; Mexico' stock exchange 0.78%; Argentina's Merval 0.27%, closing July with a loss of 0.45% and Chile's IPSA managed a slight rise of 0.13%.