Pulp mill dispute: New York uneventful, next meeting The Hague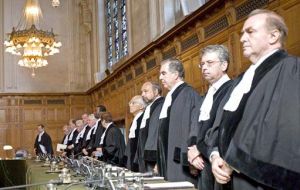 Argentine and Uruguayan delegates will be meeting again in a month's time for a third round of negotiations to try to unlock the controversy over the construction of the Botnia pulp mill on the coast of the shared river Uruguay and which Argentina challenges on alleged legal and environmental grounds.
However the big difference between this week's two days uneventful technical talks in New York under the "facilitating" efforts of the Spanish Crown is that in a month's time the Botnia pulp mill is scheduled to be opened and producing, although there are some pending habilitations to be extended by the Uruguayan government. Argentine delegate and Legal Counselor of the Foreign Affairs ministry Susana Ruiz Cerutti said that according to available information "Botnia plant won't be inaugurated by then", but Botnia representatives are looking forward to such an event. "What's going to happen in mid September is the beginning of production, but it won't be visible. It'll be mostly equipment adjustment, insignificant production, much verification and at some moment, as we had anticipated, there could be some strong smell, but it's not certain", said Botnia's representative in Uruguay, Carlos Faroppa. But for Argentina everything related with the plant is "illegitimate" insisted Ambassador Ruiz Cerutti. Argentina is demanding the relocation of the pulp mill on environmental grounds and is challenging the whole project for alleged violation of the 1975 river Uruguay joint administration statute which regulates among other things the use of water resources. Nevertheless next September 12 Uruguayan and Argentine delegations will again meet but in The International Court of The Hague where the legal controversy is under consideration presented by the Kirchner administration. On Tuesday in New York according to the Uruguayan general director of the Foreign Affairs ministry Jose Luis Cancela "nobody mentioned the word relocation. We did talk about Botnia's location and each side expressed its views". The second round of talks were described as "cordial" at moments "tense" but with "mutual respect and assertion", revealed the Uruguayan delegation that is seeing playing on time according to Argentine delegates. Spanish ambassador before United Nations Juan Yañez Barnuevo and his offices in New York hosted the "dialogue facilitating" efforts and helped draft the joint declaration. Argentina insisted on the illegitimacy of the Botnia pulp mill and Uruguay complained about the pickets and the Kirchner administration tolerance, which have blocked for months bridges leading to Uruguay impeding the free circulation of people and goods and harming the country's economy. The next round should take place sometime during the first three weeks of September since on the fourth the UN General Assembly opens and all diplomatic activity will be concentrated on the annual event.