Kirchner promised "full compensation" to torched Spanish fishing companies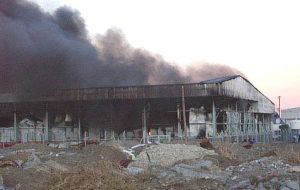 President Nestor Kirchner promised Spain "full compensation" to the Spanish fishing companies torched during a July labor dispute in his home Patagonia province of Santa Cruz, plus pressing charges against those responsible, including union leaders.
Spain's visiting Deputy Prime Minister Maria Teresa Fernandez de la Vega said on Wednesday in Buenos Aires that President Kirchner "promised to establish (economic) compensation mechanisms in the short term and in the future" for the several fish processing plants attacked and burnt to the ground by striking fishermen. She added that "President Kirchner made an explicit commitment to continue with the investigation of the violent actions to its very end and have all those responsible duly punished". Argentine officials did not give details of the compensation mechanisms or at what stage the investigation is. Last month rampaging strikers in Santa Cruz province occupied the provincial government house and later marched to the industrial park of Puerto Deseado torching several Spanish fishing companies processing plants. Some Buenos Aires newspaper reports mention "several million Euros" compensation. Although the crewmembers union at federal level, aligned with the Kirchner administration, reached a salary and working conditions agreement, the Santa Cruz chapter rejected the new contract and even bruised and returned delegates sent from Buenos Aires to try and calm the situation. Vice president Fernandez de la Vega visit to Argentina is linked to strong lobbying from Spanish corporations that have invested heavily, particularly in privatized public utilities companies which have had their rates basically frozen since the 2002 meltdown of the Argentine economy. President Kirchner and presidential candidate Cristina Fernandez de Kirchner have told the Spaniards that the issue will be addressed, and hopefully solved, following the October 28 election. Spanish corporations in Argentina are having financial problems because of increasing costs and fixed income, and those linked to energy have been unable, given the lack of necessary maintenance and investments, to keep up with the growing demand for electricity and natural gas. According to the Spanish/Argentine Commerce Chamber in Buenos Aires, Argentine companies with Spanish capital employ 300.000 people, have invested over 50 billion US dollars and represent 15% of tax revenue. Furthermore it was confirmed that the sale of the Repsol-YPF Argentine branch to a local group was well advanced, "it's a big operation, we have to be reasonable, prudent and patient, but it's steady on course", revealed Carlos Bettini Argentina's ambassador in Spain.