Falkland Islands: 'Penguin News' Weekly update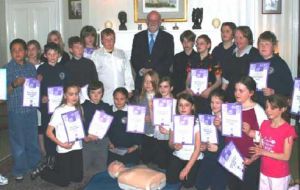 Headlines:
Year 6 are Islands' first young lifesavers; Councillor's wages should not be an incentive to stand for election; Stay vigilant to prevent F&M entering Islands; New Senior Magistrate to take up post soon.
Year 6 are Islands' first young lifesaversTWENTY-three children from Year 6 in the Infant and Junior School have received their St John Young Lifesavers Award certificates. The class, who are the first in the Falklands to achieve this award, gathered at Government House on Tuesday to receive their certificates from His Excellency the Governor, Alan Huckle. Teacher Jackie Adams said the classes have been taking lessons each week for a year, adding that she was "very pleased" that every student had passed the course. The course mainly involved practical work, and some of the students gave a demonstration at Government House in front of the Governor and Mrs Huckle and family members, of life saving techniques. Year 6 had to pass several modules to gain their certificate. Within 10 days of passing an early module, two of the pupils had call to put their new skills to use when they were required to make an emergency telephone call in a first aid incident. "I am really proud of them, they are a great bunch of kids" said Ms Adams. Councillor's wages should not be an incentive to stand for electionTHE Government's Chief Executive and a small working group are striving to strike a balance between making it possible for anyone to stand for election without losing too much of their income, without offering monetary reward that would encourage the less discerning to offer their services simply to obtain the income. The Falkland Islands Government (FIG) has announced that, as part of the discussions on the review of the Constitution, it has concluded that the time has come in the development of internal self government for the option of full pay to be made available to councillors. Chief Executive, Chris Simpkins said it should perhaps be emphasised that there is no intention to change the role of councillors in terms of the work they do and in particular, the relationship with paid officials will not change. Mr Simpkins was asked to bring a small group of people together to, "...advise on what would be an appropriate level of full time pay for a councillor, if and how pension payments/entitlements would be appropriate, and any other remuneration issue." Full pay for this purpose is defined to mean, "...receiving an appropriate wage for delivering a full commitment to service as a councillor," similar to that of a UK backbench MP, said Mr Simpkins. Councillors have it in mind to introduce any scheme approved from November this year, which will be half way through the life of the present council. Members would make personal decisions as to whether to accept full pay or to remain on the present expenses system. Currently, that system provides a basic annual, non-taxable, allowance of £3,477.48 plus a daily rate for time spent on specific duties, both here and overseas, of £105. Additionally, an annual payment for portfolio responsibilities is made. The amount varies from £472.50 to £3,307.50. Taking all these allowances into account, the average amount drawn per councillor in 2006 was £16,064. Mr Simpkins invited Roger Spink, President of the Chamber of Commerce, Nick Hutton, Manager of the Standard Chartered Bank, and former Councillor Stephen Luxton to assist him in the formulation of a scheme. They will submit their report to ExCo later this month. "We have looked at the amount of time that councillors devote to their duties; the level of payments made in other Overseas Territories and governments, and made comparisons with schemes of payment paid to councillors in the UK local authorities, however, none provide direct comparisons with the situation in the Falkland Islands," Mr Simpkins explained. He said the group wants to ensure that any scheme of payment strikes a balance between making it possible for anyone to seek election without suffering an unacceptable loss of income, whilst not encouraging people to stand for election simply to achieve an income. Continued on page 2 Stay vigilant to prevent F&M entering IslandsWITH Foot and Mouth (F&M) disease discovered to be present on two farms in the UK, steps are being taken to prevent the possibility of it being carried into the Falklands by incoming passengers on MoD and LAN flights. The state of play at the moment, although things may change as more information comes to light, is that today's passengers on the incoming MoD flight will be asked to clean all footwear, both on their feet and in their luggage and the same will apply to UK passengers on the LAN flight tomorrow. The implications for the Falklands should this disease enter the Islands are enormous with the level of sheep shifting that takes place to get animals to the abattoir, said Senior Veterinary Officer Vic Epstein. The virus is resilient and can survive for long periods of time in meat, meat products, dairy and dairy products of all cloven hoofed animals (ie sheep, cattle, pigs) and in contaminated mud and inanimate objects. "This is why we import these products from F&M free countries and with sanitary certification," he said. The seriousness of the situation serves to give Falklands' farmers more insight into why movement certificates are important and why they need to be filled in, added Mr Epstein. Meanwhile his message is, "Don't be alarmist, be vigilant." New Senior Magistrate to take up post soonTHE Falkland Islands Government have announced the appointment of Alison Thompson to the position of Senior Magistrate. Miss Thompson is a Batchelor of Science and Barrister and was called to the Bar in 1986. She has extensive experience, including two years as a Magistrate and Coroner in Hong Kong. She is currently the Coroner for the Greater London (Western District) which post she has held for seven years. Miss Thompson is expected to arrive at the end of the month and will immediately begin her duties.