Twenty firm interests in Magallanes hydrocarbons tender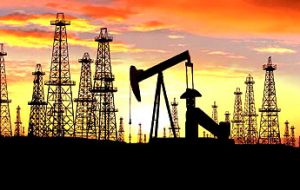 Twenty companies and consortia from eleven different countries have shown a firm interest in the exploration and production of hydrocarbons in Magallanes region in the extreme south of Chile.
According to Chile's Ministry of Mines 55 copies of the contract conditions for the tender of ten blocks to be auctioned and the related technical information had been purchased by last Thursday when the period was officially closed. The twenty companies and consortia from eleven countries, US, China, Canada, New Zealand, UK, Spain, France, Argentina, Brazil, Peru and Colombia, that purchased the technical and geological information are competing for the tender and the next step is to present their offers for the different blocks. The interest shown by the multinational corporations and junior companies was far beyond all expectations when the tender was first launched last June, revealed officials from the Chilean Mines ministry. The technical reports most demanded were those pertaining to three blocks, Tranquilo, Coirón and Caupolicán. In three of the blocks to be auctioned, Coirón, Cuapolicán and Lenga whatever company is chosen will have to reach an association agreement with Chile's government owned oil and gas company ENAP. In the remaining seven blocks, Tranquilo, Russfin, Porvenir, Brótulo, Isla Magdalena, Bahía Inútil and Otway, the private consortia will have 100% of exploration and production rights. According to the timetable next Friday August 24 is the deadline for replying to any further consultations on the terms of the tender while October 10 proposals from the interested parties must be presented. The formal announcement of the winners for the different blocks will take place November 15 which means that all contracts should be subscribed before the end of the year. The Magallanes region operational modality is described as Special Operation Contract and will be signed with the State of Chile. Contracts have a maximum extension of 35 years divided in Exploration phase and Production phase, said Chilean authorities.