Peruvian map renews boundary controversy with Chile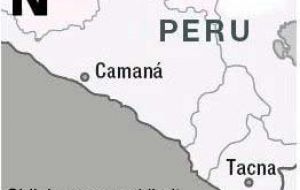 Chile summoned home its ambassador from Peru on Monday after the publication in the Peruvian Gazette of an official map which renewed a border dispute dating from a war more than 120 years ago.
Chile's Foreign Ministry said it was calling in Ambassador Cristian Barros "for consultations" a step governments often use to express displeasure with the country where a diplomat is based. A day earlier Chile filed a formal diplomatic protest over Peru's publication of an official map indicating that country owns a fishing-rich portion of the Pacific Ocean claimed by Chile. In a short statement Foreign Minister Mr. Alejandro Foxley said the map published by Peru ignores "current treaties on boundaries delimitation with Chile" and therefore "lack all international law effect and is not acceptable for Chile". Foxley added that the only boundary considered valid by Chile and has been so for the last fifty years, and agreed by both countries, date back to treaties from 1929 and 1954, plus further signalling in 1968 and 1969. Chile's relations with neighbouring Peru and Bolivia have been undermined by disputes stemming from the 1879-1883 War of the Pacific, in which Chile captured territory from both neighbours - including Bolivia's only coastline. Recovery of at least part of the coastline has been a major diplomatic goal of Bolivia for decades. A law passed by Peru's legislature in 2005 asserted that the sea boundary between the two countries has never been defined. Peru has said it plans to bring the dispute to the International Court of Justice in The Hague. The maritime dominium baseline chart published by Peru includes an area of 37.900 square kilometers which Chile considers inside its EEZ. In another sign of the dispute, the speaker of Chile's lower house of congress, Patricio Walker, cancelled a planned visit to Lima, saying publication of the map was "a major provocation" by the Peruvian government. Lima's yellow press hailed the map's publication and titled the decision as a "sovereign act of Peru", anticipating that the "next step" was The Hague International Court.