Argentines Win World Tango Championships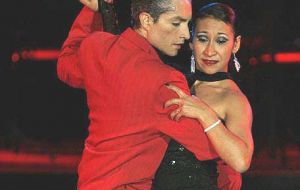 Argentina's tango pair Natalia Tonelli Attori and Fernando Gracia won the fifth edition of the Tango World Championship on Sunday in Buenos Aires.
Tonelli, 20, and Gracia, 21, danced the tango Quejas de Bandoneono to win the competition run by the Buenos Aires culture ministry. The pair had competed against 16 other couples in the Stage Tango section to win a 7,000 pesos (2,250 US dollar) prize. Chile's Paloma Berrios and Alvarado Maximiliano, took second place. Hiroshi and Kyoko Yamao, a Japanese couple that moved to Buenos Aires to train full-time, were in third place. The two told media they had met six years ago at a dance class, got married and decided to follow the tango to its birthplace. Foreign dancers favor the showier version of the dance: stage tango. The final for Salon tango, which is more popular in Argentina, will end later on Sunday. The World Championships brings together close to 500 couples from 154 cities to compete in the main event during an 11-day spectacle replete with dance shows, tango orchestra performances, specialized classes, seminars and other happenings revolving around the tango. Tango originated in Buenos Aires in the 19th century but became internationally famous in the 1920s. The music remains popular in Argentina, sometimes blended with jazz and electronic music. Milongas, tango music and dance parties that were formalized in the 1950s, have become standard tango format worldwide.