US Judge opens way for Noriega's extradition to France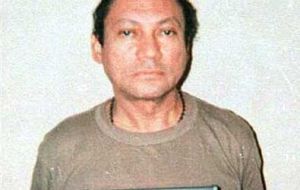 Former Panamanian leader Manuel Noriega can be extradited to France after completing his U.S. prison sentence on a 1992 drug trafficking conviction, according to a Tuesday ruling from a US federal judge.
The decision by U.S. Magistrate Judge William Turnoff was essentially a formality because a higher-ranking federal judge last week rejected claims by Mr. Noriega's lawyers that he should be returned to Panama because he was held in the U.S. as a prisoner of war. Mr. Noriega, 73 years old, is scheduled to be released from a prison outside Miami on September 9. He was tried and convicted after he was captured by U.S. troops who invaded Panama in 1989 in part to oust him from power and for his links to Colombian drug traffickers. He was convicted of accepting bribes to allow shipments of U.S.-bound cocaine to pass through Panama. Judge Turnoff's ruling is technically a recommendation to the State Department for Noriega's extradition to France, which has assured the U.S. through diplomatic channels that Noriega will continue to be held there as a POW once extradited. Noriega's lawyers said they will likely appeal Monday's order, which is based in part on a decision last Friday by Senior U.S. District Judge William Hoeveler rejecting the POW claims. Judge Hoeveler originally declared Mr. Noriega a POW but said in last week's ruling that designation doesn't make Mr. Noriega immune from extradition to foreign countries for other crimes. "I can assure this court and everyone else: you haven't heard the end of this," said Noriega attorney Frank Rubino. France wants to put Mr. Noriega on trial for allegedly laundering more than 3 million US dollars in drug proceeds through French banks. He was convicted of the crimes while jailed in the U.S., but the French government has agreed to a new trial if he is extradited, according to court documents.