Argentina trusts China will not adopt trade counter measures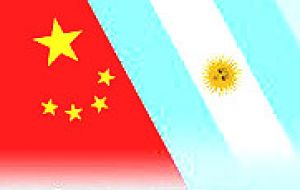 Argentina trusts China will not adopt reprisals following the latest trade restrictions on imports recently decided by President Nestor Kirchner's administration and which affect many Chinese goods, Argentine Secretary of Commerce Alfredo Chiaradía said on Wednesday.
The Argentine official admitted having a very "enjoyable" lunch with the Chinese ambassador in Buenos Aires, Zhang Tuo, to talk about the issue. Argentina imposed higher tariff and customs duties on a list of goods that are having a negative impact on several local industries including tires, foot wear, bicycles, auto parts, leather goods, toys, textiles, electronics, tools, etc. most of which China is a world leading producer. "We trust China will show patience and does not adopt measures", said Chiaradía. "Actually there are no reasons to do so", added the Argentine official who argued that the latest decisions are legitimate and contemplated by World Trade Organization rules. China is Argentina's third trade partner and one of the main buyers of commodities such as soybeans, the country's main export in volume and value. Last week, following Argentina's restrictions announcement, Beijing expressed concern and said it would act accordingly in defense of its interests. All week long the Argentine press has speculated about the possible countermeasures China would or could adopt, more specifically on the soybean shipments. However Chiaradía downplayed rumors and said that all inspections on Argentine shipments of soybeans in Chinese ports had been "routine" and previous to the tariff and levies announcement.