Falklands appoints "modernizer" as new Chief Executive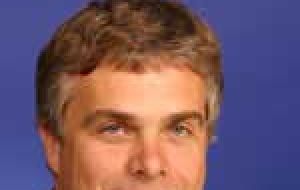 The Falkland Islands Government announced on Wednesday the appointment of Tim Thorogood as its next Chief Executive. Normal pre-contract formalities will now begin but it is expected that Mr. Thorogood, 45, will arrive in the Islands in January 2008.
According to the official FIG release Mr. Thorogood has extensive experience in local government in the UK having been a Director with Three Rivers District Council and the London Borough of Haringey before becoming Chief Executive of Swansea City and County Council in March 2003. He is currently Chief Executive of the Local Government Information Unit, --a national policy and service improvement organisation aimed at strengthening local government in the UK--, post which he has held since July 2006. Mr. Thorogood is no stranger to the Falklands having lived in the Islands as a child when his father was employed by Cable and Wireless. "This is a key appointment to the Government, and one that requires energy, enthusiasm and commitment as well as relevant skills and experience. Councillors are satisfied that we have found the right person for the next stage of our development, and look forward to working with Tim to carry out the programmes and projects in hand. The Falkland Islands is an exciting place to live and work, and we will continue to strive together to ensure that it remains an attractive place for residents and visitors alike", said the Falklands Legislative Council spokesperson Councillor Mike Summers. According to a report from the Penguin News at the end of last July the applicants for the CEO post had been shortlisted to three plus one local candidate. Mr. Thorogood was also shortlisted for the post five years ago. British press reports indicate that after a history degree at Cambridge, Thorogood trained as a teacher at a school in Gosport, Hampshire and within five years was head of the history department. At this point he jumped ship to local government, taking a job in education management with Hertfordshire Local Education Authority. A stint at Hillingdon LEA followed, after which he left the London borough to join Three Rivers District Council in Hertfordshire as director of strategic services. Thorogood then moved to the London Borough of Haringey as director of support services, before completing his race to the top in 2003, when he moved to Swansea to take up the reins as chief executive. Not content with the day job, Tim also found time to collect an MBA and a doctorate on a part-time basis along the way. In February last year Thorogood left the £121,481-a-year chief executive job in Swansea following a row over planning for his home in Rhossili when a fitted kitchen was added to his home extension without permission. He later controversially received retrospective planning permission for the work from Swansea Council. After leaving Swansea, Mr Thorogood took a pay cut of £30,000 to head influential advice board the Local Government Information Unit. Councillor Mike Summers was quoted by the Penguin News saying that Gilbert House was aware that there have been issues that have been made public relating to Mr Thorogood's resignation from a previous post in Swansea, adding "...we have been satisfied by the explanations provided". On taking the post of Local Government Information Unit Thorogood is quoted saying that one of the main attractions of the job was the opportunity to be a player on the national stage – not least because of the way that successive governments have sidelined councils in recent decades. "Working in a local authority it's become increasingly difficult to make local choices, to be innovative – to make a difference. It's become increasingly about administration, and as I went up the managerial ladder that became more evident. I felt circumscribed by that, and frustrated", he explains. "The LGIU offered me the chance to play a national role rather than a local one. It is also an opportunity to help address the problem of the erosion of local innovation and autonomy, because to get round it, you need the debate to happen on a national stage". According to the report "Thorogood shares the optimistic view that ministers are receptive to arguments for reform. But, while he thinks it's important to be honest and say "the current system isn't working", he also wants the LGIU to work collaboratively with other players in the sector rather than stand on the sidelines carping. "Thorogood's conversation is peppered with terms such as 'collaboration' and 'adding value', indicating his determination that the LGIU should play a more high-profile role in the reform debate than it has thus far". "His comment on the organization's hybrid status: 'Our position is somewhat curious, but it's also unique and is a selling point in what is a crowded market-place', suggests he is comfortable with the market-based reforms of New Labour". "Thorogood's evident energy has impressed those who have worked with him. One former colleague describes him as someone who is unafraid to drive through change in an organization, even if that means having to overcome resistance from the old guard. "He's dynamic and is prepared to push through reforms that are necessary, even if they're not popular. Tim is a modernizer and is not afraid to shake things up,' the colleague added. "With change in the air across the local government sector, his can-do attitude will be an asset to the LGIU. "Thorogood, for his part, believes that the government is serious about reform this time. 'I think the importance of local government, and the contribution it has to make, is being recognized in a way that it wasn't a few years ago, and that's why I'm optimistic". Press reports also indicate he has a passion for sailing and is a keen horse rider. The FIG release adds that as a result of the impending departure and consequent resignation effective as of 13th September 2007, of (Chief Executive) Mr Chris Simpkins from the Board of Stanley Services Limited, Members approved the appointment of Dr Michael Blanch as a Director of Stanley Services Limited for the period of his appointment as interim Chief Executive of FIG.