Fed prepared "to act as needed" to mitigate adverse effects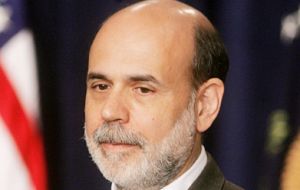 Ben Bernanke said in a letter to an influential New York Senator that the Federal Reserve is ready "to act as needed" to help the US economy if the current market turmoil spills over into the broader economy.
'The Fed is closely monitoring developments in financial markets" and "is prepared to act as needed to mitigate the adverse effects on the economy arising from the disruptions in financial markets", said Federal Reserve chairman Bernanke in a letter to New York Democratic Senator Charles Schumer, dated Monday and released Wednesday. In the letter, Bernanke also said that asset limits on Fannie Mae and Freddie Mac investment portfolios "need not be lifted to allow them to accommodate new borrowers". The Schumer letter was largely a repetition of the points Bernanke made in his meeting last week with Senator Chris Dodd, a Connecticut Democrat and head of the Senate Banking Committee. The Fed chief also suggested a collaboration to develop "a broader range of mortgage products which are appropriate for low-and moderate-income borrowers, including those seeking to refinance". Such new mortgage products could be put in place to help the thousands of homeowners facing "payment shock" when their variable rate mortgages reset to higher interest rates and payments later this year and in 2008. Bernanke suggested Congress might allow the Federal Housing Administration to begin developing such mortgage refinancing options.