The most powerful women in politics according to Forbes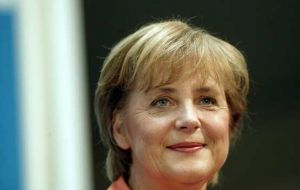 The Forbes list of the World's Most Powerful Women this year includes 29 women helping to run governments around the world. Though that's flat from 30 in last year's ranking, those who have stayed continue to flex their muscles.
Angela Merkel, the first woman to become chancellor of Germany, ranks No. 1 on our list. She continued to impress the world with her cool leadership at two back-to-back summits. First, she stuck to her principles, getting G-8 leaders to agree to significant cuts in carbon emissions, among other things. She later corralled European Union countries into an agreement on a treaty to replace the E.U. constitution. Meanwhile, China's vice premier, Wu Yi (No. 2), continues to help lead a government that oversees an economy whose gross domestic product may soon eclipse Germany's, making it the third-biggest economy in the world. Wu recently stared down U.S. Treasury Secretary Henry Paulson over his myriad demands, including a revaluation of the yuan, in recent strategic economic talks with the U.S. China, though, faces enormous challenges, like improving its rickety social, legal and economic infrastructure, and now has to contend with an overheated stock market, unsafe and shoddy products and severe pollution. The year since we last ran the rankings has seen women making historic advances. Women now make up an all-time high of 17% of parliamentarians worldwide, according to a survey of 189 national parliaments by the Inter-Parliamentary Union, the international organization of parliaments of sovereign states that was established in 1889. The IPU also says overall the number of female heads of government has more than doubled. France's newly elected conservative president, Nicolas Sarkozy, beat out Ségolène Royal, who ran a lackluster campaign. With a nod toward a 2000 French "gender parity" law obliging parties to field an equal number of men and women candidates, Sarkozy appointed seven women to his 15-member cabinet to help enact his sweeping overhaul of France's social welfare system, including Christine Lagarde (No. 12), minister of finance and economics, and France's former Defense Minister Michèle Aliot-Marie (No. 11), who remains in Sarkozy's cabinet as France's minister of the interior and overseas territories. In a historic election, Indian lawmakers recently elected for president the handpicked choice of Sonia Gandhi (No. 6), leader of India's most powerful political party, the Indian National Congress Party. Though the position is largely ceremonial, Pratibha Patil, 72, is now India's first female president. The vote, however, saw angry allegations leveled against Patil over purported corruption and criminal activity in her family. Elsewhere on the Indian subcontinent, another woman may soon return to power. Pakistan's ex-Premier Benazir Bhutto, who was the country's first female leader, is seeking a deal with President Pervez Musharaff that would allow her to return from exile to stand for election without facing arrest. In the Middle East, Muslim women are also steadily gaining government jobs that affect businesses in the region. Sheikha Lubna Al-Qasimi, minister of the economy in the United Arab Emirates (No. 99), has cracked down on stock market shenanigans with tougher rules, transparency and corporate governance. In March 2007, the Supreme Judicial Council in Egypt, the country's highest court, chose 31 women to be judges, 30 of whom (one declined her new position for undisclosed reasons) now work at courts around Egypt. Afghanistan's constitution reserves a quarter of its seats in its lower house and 17% in the upper house of its parliament for women--a higher percentage than the number of women now in the U.S. Congress (14%). And two businesswomen in Saudi Arabia won election to the country's chamber of commerce in 2006, according to the Middle East Review of International Affairs.In the U.S. Congress, though that 14% figure seems small, it represents a record number of women who now serve in the U.S.'s highest legislative body, 74. Democrat Nancy Pelosi (No. 26) is now the first female speaker of the U.S. House of Representatives, and is third in line to the presidency. Moreover, U.S. Sen. and former first lady Hillary Clinton (No. 25) may make history by winning the Democratic presidential nomination. But will she make history again by winning the presidency? Clinton might have had a better shot at it if she were born in England, Germany, India, Pakistan or Israel. Women who operate in these parliamentary systems of government have had an easier time getting to the top because they are handpicked by their colleagues in their countries' ruling party, not by an entire country of voters in national elections. Over at the United Nations, Dr. Asha-Rose Migiro of Tanzania took office as deputy secretary-general, becoming the first African woman to assume the No. 2 spot at the international organization. With a broad mandate to expand the voice of the developing world, Migiro has the bona fides, having served as Tanzania's first female foreign minister. Prior to that post, she worked at giving free legal aid to women, children and the poor. More firsts may be on the way. In Argentina, it's expected that Cristina Fernandez de Kirchner, first lady and senator, will run for president after her husband leaves the job in October. In Guatemala, activist and 1992 Nobel Peace Prize winner Rigoberta Menchu has announced she will form an indigenous political party and run for president. And Ukraine's Yulia Tymoshenko, a former entrant on our Power Women list, is on the comeback trail, aiming to become the first woman to regain her country's prime ministership in this fall's parliamentary elections.