Uruguay/Argentina relations fall to bottom rock level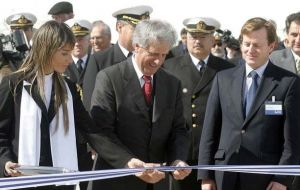 To the backdrop of several dozen Argentine protesters in a flotilla of boats and dinghies, Uruguayan President Tabare Vazquez on Wednesday inaugurated storage facilities and improved docks in a port serving a controversial new pulp mill built in Uruguay by Finnish pulp producer Botnia.
The 1.1 billion US dollars Botnia-Orion pulp mill plant in Fray Bentos has sparked a bitter legal and diplomatic battle between Argentina and Uruguay. Although the mill is scheduled to start production next month, protesters who fear it will pollute the River Uruguay that is shared by the two countries say they will not give up their fight to have it moved. "Uruguay and Finland are just walking all over us and we won't give up, whether it takes a year, or a lifetime, or if our children have to continue this" said Jorge Fritzler, a spokesman for the protest group in Argentina's Entre Rios province town of Gualeguaychu, 13 miles from the plant, which has been demonstrating against the mill for months and has blocked a key road bridge into Uruguay since last November. Argentina has taken Uruguay to the International Court of Justice in The Hague, alleging it violated an international treaty on joint-management of the River Uruguay by giving the go-ahead to the mill, its biggest ever foreign investment. Uruguay has appealed to Mercosur over the blocking by Argentine pickets of bridges linking both countries. The Argentine foreign ministry called the high-level Nueva Palmira port inauguration ceremony a slap in the face to diplomatic efforts sponsored by Spain to resolve the pulp row and "a display of indifference to the concerns of neighbouring Argentine communities". President Vazquez attended the opening ceremony for the Ontur terminal in the Nueva Palmira port, which Botnia will use to ship an estimated 3,500 tonnes of pulp a day to Europe and Asia. He left immediately afterwards by helicopter, watched by about 80 protesters in 15 boats flying Argentine flags 200 meters offshore. Protesters are planning to cross en masse into Uruguay on Sunday for a rally outside the Botnia plant itself. Nueva Palmira which is a cereal and citrus exporting port is on the River Plate close to one of the two main exit canals and a few hours barge-sailing from the Botnia-Orion plant in Fray Bentos. The storage capacity facilities and jetty extensions inaugurated demanded an investment in the range of 24 million US dollars. Early Wednesday it was revealed that Uruguay had rejected a last minute request from President Nestor Kirchner administration's for President Vazquez to be absent from the inauguration ceremony at Nueva Palmira. A meeting was held Tuesday afternoon in Uruguay's Executive camp residence in Colonia, 15 minutes flight from Buenos Aires, between President Vazquez's closest aide and cabinet secretary Gonzalo Fernandez with Argentina's Foreign Affairs minister Jorge Taiana and cabinet secretary Alberto Fernandez. Positions remained unchanged, Argentina's request was rejected and an hour later the release from Argentina's Foreign Affairs ministry regretted Uruguay's actions because they only help to "worsen the bilateral controversy". A spokesperson from the government of Entre Ríos province as well as from the Gualeguaychú citizens association described Tabaré Vázquez's presence "as just another provocation by Uruguay. "It is a provocation and just another violation of the River Uruguay Statute," the Lieutenant-Governor of Entre Ríos, Pedro Guastavino, stated.