Eight coalitions register for Argentine presidential vote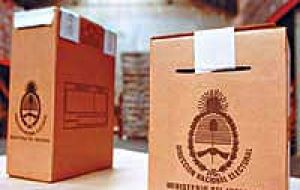 As the deadline to register coalitions for the Argentine October 28 presidential vote expired this week, eight alliances registered, among them, the one led by first lady Cristina Fernández de Kirchner, which is widely predicted to obtain a first-round victory in the face of a highly dispersed opposition.
Also competing will be two more centre-left coalitions, the UNA (An Advanced Nation), led by former economy minister Roberto Lavagna, and the Civic Coalition, led by Elisa Carrió. There are also three centre-right coalitions â€" Republican Proposal-PRO, the Justicialist Party Front and the United Provinces Movement â€" and two leftist groupings â€" Left Front-Socialist Workers and the Communist Party Front-Humanist party. Senator Fernández de Kirchner is accompanied by Mendoza Radical Governor Julio Cobos as her running-mate. Cobos is one of the five out of the six Radical governors who back the Kirchner administration. A sector of the disbanded Radical party is supporting the presidential candidacy of Lavagna, a Peronist and a former economy minister fired by president Néstor Kirchner for allegedly being "too independent." Now Lavagna is a strong critic of the government. Lavagna is running with Senator Gerardo Morales, the Radical party chairman who opposes the government. Carrió has not yet appointed her running-mate for the Civic Coalition, which is formed by the ARI â€" the party she founded and later quit â€" and the centre-right Union for All led by former Labour minister Patricia Bullrich. Centre-right leader Ricardo López Murphy, a former Economy minister, is the presidential candidate of PRO, the coalition formed by his Rebirth party and Commitment for Change led by Buenos Aires mayor-elect Mauricio Macri. After Macri said that he would vote López Murphy for president but only on a "personal basis," López Murphy sought to forge a coalition with Carrió but their efforts collapsed, López Murphy said on Tuesday, because they failed to reach an accord whereby existing alliances were respected. That was a reference to Carrió's statement that Macri could not be admitted into their alliance due to "moral" considerations. Macri, anyhow, had not made any attempt to be part of a coalition with Carrió. His camp expressed outrage at her statements. López Murphy had expressed readiness to drop his own presidential candidacy in favor of Carrió but after talks with her failed, he registered his own presidential candidacy with deputy Esteban Bullrich as vice-presidential candidate. Meanwhile, the centre-right anti-Kirchner Peronists (also referred to as "dissident" Peronists) grouped in the Justicialist Party Front, chose San Luis Governor Alberto Rodríguez Saá as presidential candidate. The group includes former president Carlos Menem, who dropped his plans to run again for president, and three minor centre-right groups. The anti-Kirchner group has yet to name its vice-presidential candidate. Former president Ramón Puerta has said that he will not be the group's vice-presidential candidate and that he will run for governor of his home province of Misiones instead. The United Provinces Movement is taking Neuquén Governor Jorge Sobisch for president. He had expressed his desire to be the presidential candidate of the anti-Kirchner group but after Rodríguez Saá was appointed Sobisch decided to continue on his own. Writer Jorge Asís, a former ambassador during the tenure of Menem, is his running-mate. The Communist and Humanist parties back the candidacy of Luis Amman. They have not yet chosen a vice-presidential candidate. The Left Front-Socialist Workers Coalition is running the ticket of José Montes-Héctor Heberling.