Piet Velthuizen – Future Dutch international goal-keeper?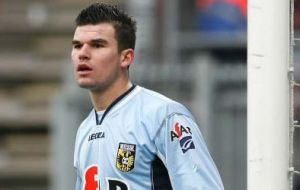 After three rounds of the Eredivisie Championship in Holland it is something of a major surprise to most football followers, to see the name of Vitesse Arnhem sitting in second place, only edged out of top spot by Feyenoord's superior goal difference. Both team's have 9 points from 3 victories.
On Sunday, Vitesse, cheered on by nearly 19,000 fanatical fans, hung on grimly to a 1-0 lead, courtesy of a 16' Harry Gommans headed goal, in a local 'derby' against near neighbours NEC of Nijmegen. It was no surprise when Vitesse's 20 year old goalkeeper Piet Velthuizen was quite rightly named 'Man of the Match', because at times it appeared as if it Velthuizen was playing alone against NEC! The Vitesse midfield had a bad day with no-one able to hold the ball up, and the visitors gradually took control of the game and subjected the Vitesse defence to a severe pounding for most of the second half. Shots rained in from all angles, but Velthuizen was unbeatable, for the second game in succession, and the NEC players must have despaired at ever beating the young keeper. Last week Velthuizen defied top-rated AZ Alkmaar with a series of top class saves and this Sunday he excelled with a goal-keeping display of the highest quality. Van Beukering looked certain to score for NEC but somehow the 20 year old keeper touched the ball around the post. Rutger Worm's fierce drive was heading for the top corner of the net, but Velthuizen flung himself high and wide and managed to divert the ball over the bar. Worm could only hold his head in despair! The young goal-keeper has a safe pair of hands too and smothered everything on the ground, left or right side. It was an unforgettable display. Although his home is in Nijmegan, fierce rivals of Vitesse, and just 10 kms away, Piet Velthuizen signed for Vitesse as an 11 year old, playing his way through the junior and youth teams. He is currently the Dutch Under 21 team's custodian, and is being tipped by many experts to take over from Edwin van der Sar as the National keeper, sometime in the future. His chance to become the Vitesse number one keeper came in unusual circumstances. With the regular keeper under pressure from the fans after conceding 5 goals against Champions PSV in a league match last season, the Vitesse coach thrust the youngster into the 'hot seat' and he acquitted himself admirably. He's been the first choice ever since. 'Living in near-by Nijmegan I often get abuse from NEC fans who recognize me on the street – but I try not to react and so avoid getting into trouble, but sometimes it is difficult – but I don't carry a gun for protection' said Velthuizen laughingly. He added, 'I model myself on the great Italian goal-keeper Buffon, but have the greatest admiration for van der Sar. I aim to do my best for Vitesse, train hard and try and get to the very top. Of course if one of the big sides in Holland showed interest in me then I would have to consider moving, and it would be fantastic to have the chance to play in England one day, but I'm still learning and this is a good club for that'. In three games this season Velthuizen has only had to pick the ball out of the back of the net on one occasion – in the opening game against Sparta, which Vitesse subsequently went on to win 2-1. It takes an exceptional strike to beat him and on 15 September, Vitesse face their biggest test of the season when they play Champions PSV in Eindhoven. Most people are predicting a victory for the home team, but as their strikers will discover, creating goal-scoring opportunities is fine, but the ball has to be put into the net and beating Piet Velthuizen could prove to be a frustrating experience. By Patrick Watts - European Correspondent. Arnhem – Holland.