Champions PSV back on top – for now.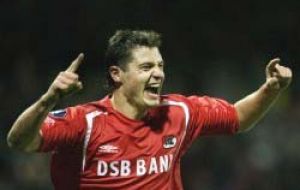 Dutch Eredivisie champions PSV Eindhoven eeked out a narrow 1-0 victory over improving Vitesse, to leapfrog the Arnhem side and go top of the table after 4 games.
The performance was not convincing and coach Ronald Koeman will be hoping for an improved display this Wednesday when PSV open their Champions League programme against CSKA Moscow. Vitesse began Saturday night's game very tentatively with one striker in the opposing half and 9 players back defending deeply. This allowed PSV to dominate the opening exchanges and newly arrived striker Danny Koevermans took full advantage when in the 7th minute he scored with a typical fiercely struck shot from outside the penalty area, which rocketed high into the net, giving Vitesse's 20 year old goalkeeper Piet Velthuizen no chance of saving. Velthuizen, who his coach Aad de Mos later described as the number 2 in Holland behind Edwin van der Sar, was called into action just two minutes later, smothering a shot from the impressive Ibrahim Afellay, who cut through the Vitesse defence in a sparkling run. Vitesse gradually gained in confidence, and put together some neat attacking moves, one of which ended with Gil Swerts hitting the PSV cross bar from 30 yards, with Gomez beaten. Two minutes later, after another sweeping upfield attack, Vitesse suffered the misfortune of hitting the PSV crossbar for the second time with Ghanain born Yakubu being the unfortunate player. It seemed certain that former Vitesse sriker Danko Lazovic, who last season hit 19 goals in 32 games for the Arnhem side, must score but Velthuizen pulled off another remarkable save, leaving the Serbian to shake his head in disappointment. PSV had strong claims for a penalty turned down by referee B.R. Bloom, who was voted as the top Dutch referee last season. It appeared that Velthuizen had clearly brought down Lazovic but Bloom waved away the PSV protests. Vitesse dominated the 2nd half and looked like equalizing on several occasions, but the elusive goal would not come. The Chilean Juan Lorca, recently signed from the Colo Colo club of Santiago, shot over the bar when well placed, and the 20 year old Chinese player Yu Hai was also guilty of a scorning a good opportunity when he received the ball from the hard working Remco van der Schaaf, but weakly scuffed the ball wide of the post. PSV continued to be dangerous and keeper Velthuizen was once more required to pull off a great save, tipping the ball over the bar, following a break and shot by Afellay. Velthuizen then sprinted down the other end of the field and nearly got his head to the ball following a corner kick, as Vitesse desperately tried to take a point back to Arnhem. PSV's Brazilian goalkeeper Gomez suffered a chest injury as he collided with the post when making a last ditch save following a corner by Kolk. Gomez received attention both on and off the field, giving coach Ronald Koeman some cause for concern with the important Champions League game coming up. It was the PSV players, and their apprehensive fans, who were relieved to hear the final whistle. Coach Ronald Koeman admitted that his team had been giving a considerable testing by Vitesse, as he prepares for the Champions League game on Wednesday. Patrick Watts – Eindhoven - European Correspondent - MercoPress.