Britons among Thai plane crash dead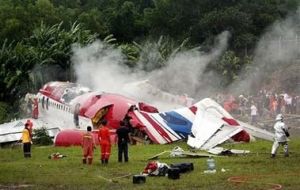 Up to 10 British tourists are feared to be among 90 people killed in a horrific plane crash in Thailand as it attempted to land during heavy wind and rain.
A total of 123 passengers - mostly foreign tourists - plus seven crew were on board the budget One-Two-Go Airlines domestic flight from Bangkok to Phuket. Emergency workers pulled 90 bodies from the wreckage and the 40 survivors were taken to hospital after the crash on the tourist island, which is a mecca for backpackers. Phuket's deputy governor, Worapot Ratthaseema, said British passengers were among the fatalities, along with Irish, French, German, Israeli, and Australian travellers. Reports put the British death toll at 10, with eight survivors, but the Foreign Office was still unable to give any exact figures about the Britons involved. It is not expecting to have the number of casualties and fatalities until the British ambassador to Thailand, Quinton Quayle, arrives in Phuket to co-ordinate operations. It was not clear exactly how many foreigners were killed but the Thai Ministry of Public Health later issued a partial list of 31 foreign survivors, which included five Britons. A spokesman for Bangkok Phuket Hospital said there were five British men and two British women being treated at the hospital and that they were not in a life-threatening condition. He later confirmed the names of six of the British survivors they were treating as: Benjamin Zachary Green, 24, Peter James Hill, 35, Ashley Scott Harrow, 27, Christopher Edward Cooley, 23, William Burke, 23, and Mrs Mahsa Fatoorechi. He did not have the name of the second British woman being treated and could not go into details about their injuries or where in Britain they were from.