Unprecedented drop in world oilseeds crops forecasted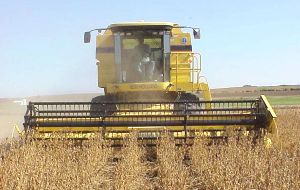 World production of the top ten oilseeds is forecasted to register an unprecedented fall this season because of bad weather conditions during growth, according to Hamburg-based Oil World.
"The prospective decline in world production of ten oilseeds by around 13 million tons is unprecedented" putting the 2007/2008 crop at 391 million tons said Oil World in a report. The ten oilseeds mentioned in the report are soybeans, sunflower, rapeseed, groundnuts, cottonseed, sesame seed, palm kernels, copra, flaxseed and castor seed. Oil World said that world output had increased without interruption for the past eleven years to 404 million tons in 2006-2007 from 257 million tons in 1995-1996 and that the last fall seen in 1995 was considerably more moderate. "Climatic conditions were extreme in several oil seed and grain producing regions during April August 2007, with several regions experiencing either too dry and hot or too wet conditions or rainfall at the wrong time". However output prospects in India have risen and the country is expected to see its oilseed harvests jump 11% this season but drought in central Brazil and parts of Argentina may curb output in 2008 below potential, thus aggravating global tightness. Oil World estimates the world's soybean output in 2007/2008 at 223.6 million tons, down 14.1 million from last season, and the sunflower crop at 27.3 million tons, off 2.7 million tons compared to 2006/2007. By contrast, the world's rapeseed harvest was seen rising two million tons to 49.4 million tons this season.