Boeing predicts Latam will buy 1.700 planes in next 20 years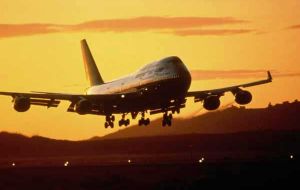 Boeing forecasts that demand for air travel in Latin America will see the region buy more than 1,700 planes worth 120 billion US dollars over the next 20 years.
Plane travel in the region will grow on an annual basis of 6.6% over the two decades, second only to China's expected growth of 8.8% and above the world average of 5%, said Boeing during a presentation in Rio do Janeiro. The Seattle based corporation believes single-aisle jets, 90 seats, will make up about 80% of orders. Earlier this year, Boeing estimated the world's airlines would spend 2.8 trillion US dollars on new aircraft by 2026. This figure included freight planes as well as passenger jets. Latin America is seen as an attractive growth area for the aircraft industry because of the large distance between places, poor existing transportation links and an increasing number of people able to afford air fares. New aircraft as well as existing planes and purchases of used planes will take the region's fleet size to 2,420 by 2026, Boeing said. But large jets, such as Boeing's 747 and Airbus's A380, will make up less than 1% of new deliveries, according to the projection. Meantime in Britain British Airways announced it had placed an order for 36 new aircraft - the largest the airline has made since 1998. These include 12 Airbus A380 super jumbos and 24 Boeing 787s, to be delivered between 2010 and 2014, an order which has a list price of 8.2 billion US dollars. The group also has options to buy seven more A380s as well as a further 18 Dreamliners from Boeing. The new planes would be "greener, quieter and more fuel efficient" with much lower CO2 emissions, BA said. The new planes will replace 34 of BA's existing long-haul fleet. Both types of planes will be powered by Rolls-Royce engines, the airline said. BA said the A380 will be used to provide more passenger spaces in key markets, particularly in flights from Heathrow. Meanwhile, the 787 will be used to start new routes and increase the number of flights made. "These new aircraft will continue our commitment to deliver the best travel experience to our customers," said BA chief executive Willie Walsh. "This order builds upon our recent investment in improving the customer experience through (Heathrow) Terminal 5, the new Club World cabin, in-flight entertainment system and ba.com."