OPEC blames oil record prices on market speculation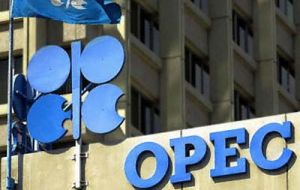 As oil prices hit new records the cartel of oil exporting countries promised Tuesday to respond to any supply disruption but also expressed concern about the rising prices which it attributes largely to "market speculations".
The Organization of Petroleum Exporting Countries, OPEC, Secretary General Abdalla Salem El-Badri said in a written statement that OPEC is carefully watching developments in the oil market and has observed with concern the recent escalation in oil prices. "While the Organization does not favor oil prices at this level, it strongly believes that fundamentals are not supporting current high prices and that the market is very well supplied. There has been no interruption in crude supplies and OECD commercial inventory levels remain above five-year levels. Forward cover, which stands at 53.5 days, is at a comfortable level. "The rising oil prices which we are currently witnessing are, however, largely being driven by market speculators. Persistent refinery bottlenecks and seasonal maintenance work, ongoing geopolitical problems in the Middle East and fluctuations in the US dollar, also continue to play a role in pushing oil prices higher. Additional political tensions, seen during recent days, are also pressurizing oil prices upwards. "OPEC continues to strive for a balanced market and a fair price that is favorable for both consumers and producers. As part of its mission to keep the market well supplied, and as agreed in September, the Organization will raise output by 500,000 b/d from 1 November 2007. Member Countries are in the process of implementing their share of this increase. "OPEC will continue to monitor the global oil market and will respond to any supply disruption, so as to ensure the market remains well supplied during the winter months".