Antarctica sea bed: Chile will assert rights in UN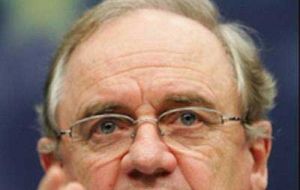 Chile confirmed Monday it will make an official presentation before the United Nations Continental Shelf Limits Commission to confirm Chile's rights off Antarctic territory following on the announcement by the Foreign Office of Britain's intentions.
Foreign Affairs minister Alejandro Foxley said that although "nobody can infringe on Chile's rights over Antarctic territory" there's no date yet for the presentation before the Limits Commission since the initiative is currently on course and the UN deadline expires May 2009. "We have enough time; we're jointly working with the institutions that need to be involved in the issue, Armed Forces, scientists, experts, legal advisors, so we feel satisfied, we're on schedule and doing the job", said Foxley talking with reporters in Santiago. Foxley added that the presentations such as those done and announced by Britain, France, Australia and which Chile is planning consist in papers with the backup data, documents and arguments contemplated in the Law of the Sea Convention, and the 2009 deadline, which allows coastal states to extend their rights over the ocean floor on an adjacent continental shelf up to 350 miles from shore. However Foxley revealed that "there's an agreement dating back to 2004 which determines that these presentations should not induce to a decision from the Continental Shelf Limits Commission, because we also have the Antarctic Treaty dating back to 1959 which has frozen all those claims". "This means that Chile's rights are guaranteed by the Antarctic Treaty. The additional presentation is in the event of a political agreement between leading countries to discuss the additional issue of the extension of rights over the ocean floor on the adjacent continental shelf of coastal countries", added Foxley. The Antarctic Treaty came into force on 23 June 1961 after ratification by the twelve countries then active in Antarctic science. The Treaty covers the area south of 60°S latitude. Its objectives are simple yet unique in international relations. They are: to demilitarize Antarctica; to establish it as a zone free of nuclear tests and the disposal of radioactive waste, and to ensure that it is used for peaceful purposes only; to promote international scientific cooperation in Antarctica; to set aside disputes over territorial sovereignty. The treaty remains in force indefinitely. The success of the treaty has been the growth in membership. Forty six countries, comprising around 80% of the world's population, have acceded to it. Consultative (voting) status is open to all countries who have demonstrated their commitment to the Antarctic by conducting significant research. Furthermore the 1991 Protocol on Environmental Protection to the Antarctic Treaty in article 7 specifically prohibits any activity relating to mineral resources, other than scientific research.