Storm kills oil workers in the Gulf of Mexico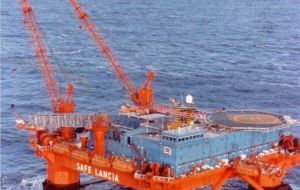 Petroleos Mexicanos, Pemex, state-owned oil monopoly, said at least 10 workers were killed when an oil rig hit a drilling platform during a storm this week in the Gulf of Mexico, and 18 are still missing or in lifeboats.
Rescuers have retrieved 58 of the 86 workers who evacuated from a drilling rig and a floating platform about 75 kilometers off the shore from Ciudad del Carmen in Campeche state, said Carlos Ramirez, a spokesman in Mexico City for the company. The rescue effort was hindered by "extreme weather conditions that we've never registered before", Carlos Morales, director of Pemex's exploration and production unit, said in an interview with Mexico's Radio Formula. Waves as high as 8 meters knocked the rig and platform together, damaging a drilling mechanism and pipes and causing fuel and oil spills, Pemex has previously stated in a release. After 3:35 p.m., the workers evacuated from the Kab- 101 platform and the Usumacinta rig, which Pemex leases from Compania Perforadora La Central, Morales said. Six Pemex helicopters, two Mexican Navy helicopters and four ships have joined the rescue operation, said Morales. Some of the workers may have left their lifeboats, and their emergency communication equipment doesn't have adequate range to reach rescuers, according to Morales. Usumacinta is a 25-year-old drilling rig with extendable legs that enables it to drill in seas up to 200 feet deep, according to Rigzone, a Houston-based company that compiles data on the offshore oil industry. Eight Mexican ports on the Gulf were closed to commercial traffic Tuesday after the storm produced gusts of 81 miles an hour, said Martin Munoz, of Mexico's meteorological service. The ports, including three used by Pemex to transport oil, will remain shut until at least Thursday, Munoz said. Smaller ships have been docked at all Mexican ports in the gulf, he said. It's the third time employees have been evacuated in 10 days from Pemex facilities. A boat caught fire on Oct. 11, killing one worker, and a cleanup boat hired by Pemex capsized Oct. 22, with one person still missing.